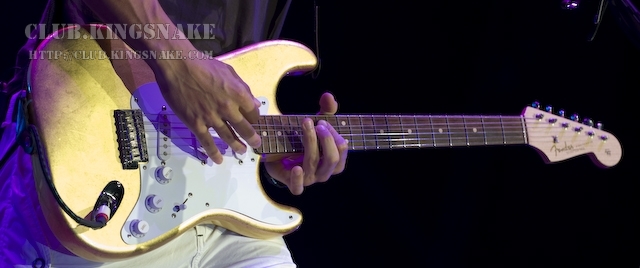 John Mayer Performs at the Molson Amphitheatre
Photos by Clint Gilders - staff photographer
by
clint gilders
- clubkingsnake staff
The Molson Amphitheatre. Toronto, Ontario
July 7, 2008
The traffic en-route to the Molson Amphitheatre was terrible. It took me 40 minutes to travel 3 kilometres through downtown Toronto. It was only through the grace of the Live Nation rep that I was able to sneak into Colbie's set after the first song. Aside from the house guy I was the only photog shooting Colbie and for Mayer we added a photographer from the Toronto Sun. The photo pit was narrow and didn't stretch in all the way from either side of the stage. You picked your side and hoped you'd called it right. Clint's pearl of wisdom for the day: When shooting a guitar player (like John Mayer) in a situation like this I prefer to shoot from stage right. A right handed guitar player will generally face that way and you won't have the neck and headstock blocking their face. End Clint's pearl of wisdom (for what it's worth). Whatever side you pick you generally get screwed out of interesting angles and diverse shots. C'est la vie, I'm still shooting John Mayer and can take him off my "Bands to shoot before I die" list!
With the show sold out in the extreme and the
scalpers
ticket brokers asking in the multiple hundreds of dollars for tickets I didn't end up with a review seat. So, I did my "three songs, no flash" from the best seat in the house and was escorted from the building. Made for an early night anyway...... except for the 90 minute drive home and the several hours spent looking at photos. I really need to train myself to wait until morning to look at my photos. Yeah, right. That'll never happen.
I can't tell you what songs Colbie opened with, but I did jot down that John began his set with "Vultures" and "Waiting on the World to Change" from
Continuum
and closed out my time in the pit with "Clarity" off of
Heavier Things
. For gear heads, he had a Dumble "Steel String Stinger" in his backline along with his Two Rock John Mayer head. $20,000+ of amps and delicious tone....... drool. This cat really flies under the radar of the guitar hero world. Yeah, he's a pop star. But man can he play, and watch out when he starts channeling Stevie Ray Vaughn. If you haven't heard his live blues album as "The John Mayer Trio" you need to look it up.
Click thumbnails to view full size images