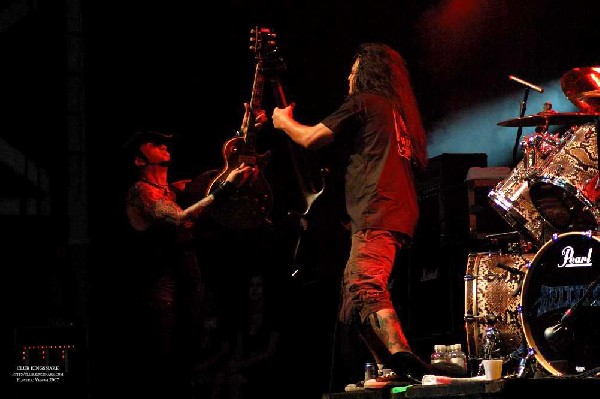 Bobzilla and Tom Maxwell of Hellyeah - more photos...
photo by brian rampacek - staff photographer
by
cindy steinle
club kingsnake staff
Recently I got the opportunity to sit down and kinda interview Vinnie Paul and Tom Maxwell from
Hellyeah
. Well not really interview them, but to join in on a telephone press conference. There were several people from different press outlets, and one of them was little ol me. I was honored to be included in this.
The two guitar attack of Hellyeah works really well in Tom Maxwell's opinion. "Greg and I have known each other for a while and we are cut from the same page. We compliment each other well. We sometimes just sit in the back of the bus and play."
Hellyeah isn't the normal
Family Values
type of fair with their southern feel to their music. Connections between Vinnie Paul and Jonathon Davis helped make the tour happen. "Hellyeah is a band that needs to get out to the masses. Its a great opportunity for us to get familiar with bands and their fans that may not know us." Vinnie Paul states.
With a 30-45 minute set, they come out and just tear through their set. Right now their full set is basically their entire album. Their Family Values set will be highlights. According to Maxwell, "We will come out firing guns!"
Jerry Montano who was involved with the studio recording of the Hellyeah debut album was replaced for the tour portion due to some personality conflicts. Replaced by Bobzilla, who previously worked with Vinnie in Damageplan, Bobzilla has clicked well on the road.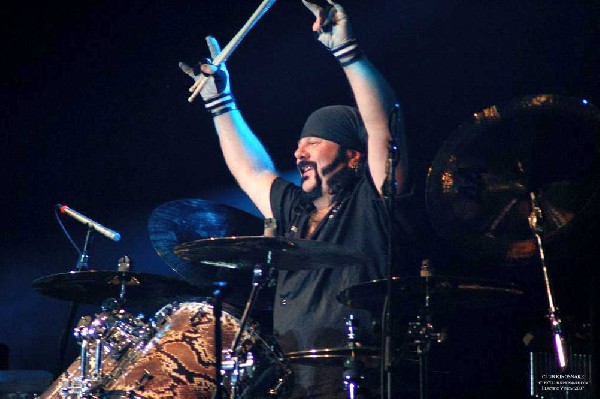 Vinnie Paul of Hellyeah - more photos...
photo by brian rampacek - staff photographer
For the members of the band this has been like going back to square one and starting from scratch. To Maxwell, it reminds him of why he started playing music. "Personally, it has been exciting and I feel like a kid." For Paul, it his second time around. Starting up with Damageplan and now Hellyeah it reminds him why he plays music. After being on the road, you tend to take things for granted. This takes them back to the initial excitement of playing the big stage, seeing fans who know the music. "The most important thing about Hellyeah is just having fun. No egos, nothing like that." Paul states.
One thing they want to make clear is Hellyeah isn't a side project, but a real band. With plans to take this run until the end of the year and then taking a 2 year break, Hellyeah will be back. There are no intentions of this band being a one album flash in a pan.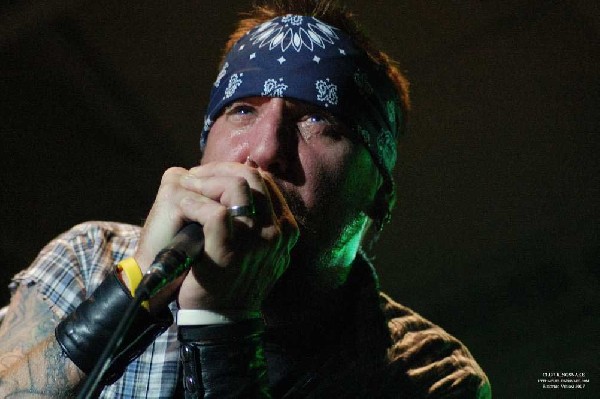 Chad Gray of Hellyeah - more photos...
photo by brian rampacek - staff photographer
Alcohaulin' Ass is their next single and video. The reasons for this is the band felt this song could be universally embraced. According to Paul, " Everyone needs a little alcohol and a little ass." The song was written during a beer run. When Sterling went to get beer, Greg started writing a country song and Chad wrote the lyrics. The song was done by the time Sterling returned and they laid down acoustic tracks. When the rest of the band finally returned from Paul's Clubhouse, it just blew them away Paul saw a HUGE arena anthem song. Within an hour and a half it was done.
Pantera was notorious for their backstage antics and videos. Expect some of the same from Hellyeah. Lots of behind the scenes stuff and backstage antics. "It's cool man," Paul states "It's all about having a good time. For our regular 9-5 type of fans its their way of living vicariously through us" For those who have been around as Pantera fans, you will see some old faces. The crew for Hellyeah has many of the people who have worked with Paul for years. They are his family now, and he takes his family everywhere. "They are people you can count on when you put your ass on the line up there. I'm really glad most have stuck around through the years."
In regards to live shows, Paul loves friendly competition. "When one band kicks ass, they make you play just that much harder to kick ass. I love the friendly competition on the road. As a headliner, I liked having a kick ass band before us. It made us work harder." Maxwell agreed and pointed out there wouldn't be ego pushing from Hellyeah. It seems right now "You Wouldn't Know" seems to be the most well received live song.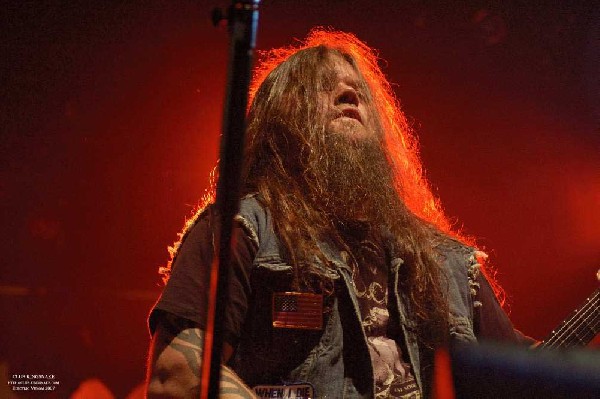 Greg Tribbet of Hellyeah - more photos...
photo by brian rampacek - staff photographer
The start of Hellyeah will not come as a shock. The guys got together and spent a night drinking. A lot of drinking. And a lot of talking about their influences, what turned them on and off musically. When they got into the studio they just clicked. There were no egos and no bickering. They all found a rare chemistry that worked well. Maxwell is quick to take both blame and credit for things. "I was hell-bent. I had a lot of things that I couldn't do in Nothingface. I'm all about grooves, hooks and just rocking out. Sometimes it takes a whole life to find that." According to Paul,"Music is too serious these days. Hellyeah is about having fun, total deviation from what is out there."
Recording in Chasin' Jason Studios located in Dimes house was hard for Paul. Vinnie and his brother Dimebag Darrell built the studio to have the ability to record whenever the mood struck. "You know I tell ya the first day, the first song was "Nausea". That was how I felt. But once we started, it felt like Dime was behind us and driving us. Everyone felt a special motivation and it felt like right thing. I felt it was the right place to do this."
To make life and recording easier on his band mates, Paul just added on to his home. "I have crown royal pool, but I had lots of space there, I was debating about a tennis court, but I don't play tennis. When Chad asked where he was gonna stay during the recording I said I had a friend who owned a hotel and would hook them up. The next day I called the cowboys and asked if they could come over and build cabanas for my friends to stay. When they showed up, I gave them the cabanas. We became the cabana brothers. We basically lived together." According to Maxwell, he has the best cabana, the Loofa room.
One reporter noticed that the album was more upbeat than what is put out by the other bands currently. Paul credits this to the chemistry of the blended personalities. "It stands apart from what we have ever done. I don't think this music could have been written with those other groups." According to Maxwell, "I'm the type of person where it is it about the moment. I don't have any kind of music planned. I just go with energy. That's kinda how this worked out. You start with one riff and build upon it. We just got together had a great time, some cocktails, and it turned out to be great. You can get the best people together and there is no promise. But with this, every song is so much fun to play. No lag time. It's real and honest and everyone is loving it. I think it is what it is. I think the next record will be same way."
I took a moment to ask Vinnie about his newest project, Big Vin Records. He'll be looking while he's on the road with the Family Values tour. I asked him what he was looking for in new talent and he states "To me I want something that will stand out like sore thumb. I want something original and different. I will be looking all summer at shows." Interested bands can send submissions to Big Vin Records at Big Vin Records- Submissions, 420 E Lamar #212 Arlington, Texas 76010 USA.
Thanks to Tom, Vinnie and Janie for allowing Club Kingsnake to sit in.