Quicksearch
Your search for
"protest the hero"
returned
26
results:
Tuesday, September 16. 2008
In the wake of Canada's national Broadcaster "The CBC" dropping the
ball
puck and
losing the iconic "Hockey Night in Canada" theme song
Moe Carlson and Luke Hoskin of Canada's Protest The Hero have submitted an entry to "Canada's Hockey Anthem Challenge". The contest was launched after The CBC failed in negotiations with the song's copyright holder and the music was snapped up by rival Canadian network CTV. The winner of this contest will become the closest thing to royalty we have in this country (Next to the Queen of England that is).
You can listen to it below, and
visit the contest site
to rate it.
Hail King Moe and Queen Luke!!
PS: club.kingsnake.com will be in Belleville on Friday the 19th when Protest The Hero and fellow
Underground Operations
label mates
These Silhouettes
and
The Kathleen Turner Overdrive
take the Stage at
Matt and Joe's
. Be there or we'll point and laugh at you.
Monday, July 14. 2008

Every Time I Die
07/05/08
Verizon Wireless Amphitheater

These are all bands I shot at the Van's Warped Tour in Selma, Texas. Checking out the Warped Tour is kind of like speed dating bands, and with 8 stages going it's hard not to find a band you want to have a relationship with. In eight hours I averaged a little better than a different band every 30 minutes. A lot of bands I had seen before, a lot of bands I hadn't but I still had a lot of fun.

Thanks to MSOPR, Live Nation and the Van's Warped Tour for inviting me out.


Against Me!
07/05/08
Verizon Wireless Amphitheater


The Briggs
07/05/08
Verizon Wireless Amphitheater


Paramore
07/05/08
Verizon Wireless Amphitheater


Protest The Hero
07/05/08
Verizon Wireless Amphitheater





Street Dogs
07/05/08
Verizon Wireless Amphitheater


Entice
07/05/08
Verizon Wireless Amphitheater


Gina Cutillo
07/05/08
Verizon Wireless Amphitheater


Relient K
07/05/08
Verizon Wireless Amphitheater


Norma Jean
07/05/08
Verizon Wireless Amphitheater


Say Anything
07/05/08
Verizon Wireless Amphitheater


Reel Big Fish
07/05/08
Verizon Wireless Amphitheater


Panima
07/05/08
Verizon Wireless Amphitheater


The Academy Is
07/05/08
Verizon Wireless Amphitheater


The Bronx
07/05/08
Verizon Wireless Amphitheater


Jack's Mannequin
07/05/08
Verizon Wireless Amphitheater


Greeley Estates
07/05/08
Verizon Wireless Amphitheater
Saturday, July 12. 2008

Street Dogs on the Highway 1 Stage - more photos
photo by Jeff Barringer - Staff Photographer
I don't travel well anymore.
Bonaroo, or Coachella, for me, constitutes a nightmarish scenario like a Seinfeld episode gone dark and demented. Camping for 3 days in the middle of nowhere, my fate controlled and decided by pimply faced kids in EVENT STAFF t-shirts, at the mercy of the elements sun, wind, and rain, and the ever present lines of people queuing up for basic amenities like drinking water, showers, and bathrooms, the whole idea gives me a case of the willies.
When I was younger pup, in my teens and twenties, the idea would have appealed to me to no end, and in fact back then I traveled quite a bit, often camping out in my car. By the time I was in my mid thirties I was firmly of the opinion that basic amenities such as air conditioning, clean sheets, and soft pillows were a minimum for travel and since then my criteria have only tightened.
Had it not been for the fact that Protest The Hero and Paramore were playing Warped I seriously doubt that I would have made the 5 hour trek down to San Antonio and back, but it had been 3 weeks since I covered a show, no better prospects were forthcoming and I was looking for any excuse I could to get out of the house. Besides it was a one day show, only a day trip, and even I am not too old and whiney for that. Luckily Mike over at Earshot Media has a few bands on the tour (he
ALWAYS
seems to have a few bands on the tour) and after a few emails I was hooked up.
Continue reading "Concert Review: Warped Tour at The Verizon Wireless Amphitheater, Selma, Texas (Part 1)"
Thursday, July 3. 2008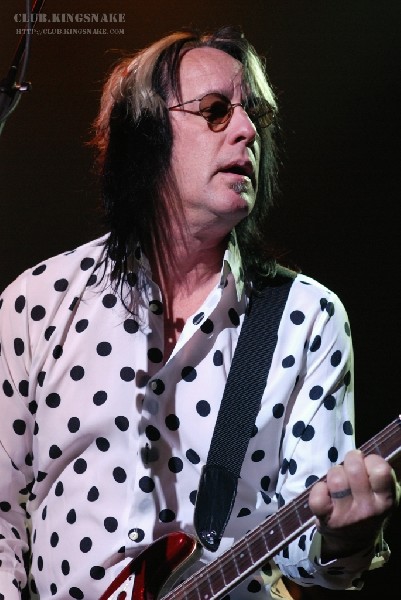 Todd Rundgren
photo by Clint Gilders - Staff Photographer
After a June that got off to a nice start and then sputtered, Austin's road show scene starts to perk back up in July and August is starting to shape up nicely as well.
For those wanting to make the trek Willie Nelson and crew will be holding their annual July 4th picnic tomorrow down at the Verizon Wireless Amphitheater in Selma. Those that pass out in their cars will be in for a rude awakening come the following morning however as the parking lot is set to be the main stage for Van's Warped tour which starts bright and early at noon on Saturday. Look for club kingsnake to be there working the main stages. Hot bands to watch out for will be Protest The Hero, Reel Big Fish, and The Briggs.
They're a band, they're a cartoon, they are Dethklok and the will be bringing the popular Adult Swim cartoon to life over at the Austin Music Hall on Sunday, July 6th. Also on the bill are Chimaira and Soilent Green, this show was moved from La Zona Rosa due to "overwhelming demand". If metal is just not your thing you can boogie on over to Stubb's and catch KC and The Sunshine Band (no joke!) also on July 6th.
Todd Rundgren, taking a break from The New Cars, will be doing a show over at Antone's on July 19th. Bring your copy of
Hermit of Mink Hollow
on vinyl and maybe he will sign it.
La Zona Rosa really heats up towards the end of the month with Alkaline Trio on July 21st, Good Charlotte on July 23rd, the Wolf Parade plays on July 25th. Billy Bob Thornton and The Boxmasters will be over at Stubb's on July 26th.
August sees a big flurry of road shows right off the bat. The Backyard, in it's final season, hosts 311 & Snoop Dog for 2 nights on August 2nd and 3rd. Also on August 2nd is Less Than Jake over at La Zona Rosa
followed by The Faint on August 11th.
If your August 2nd isn't busy enough Stubb's has Bullet For My Valentine with Bleeding Through and The Cancer Bats on the same night. South African rockers Seether plays Stubb's on August 8th, something I am looking forward too.
Tuesday, April 29. 2008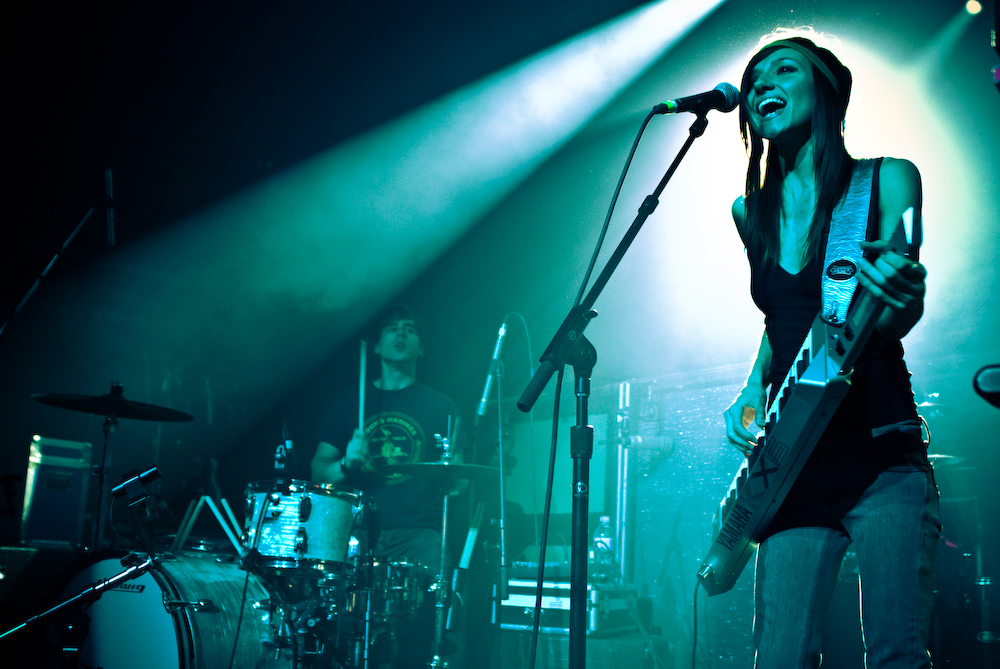 Lights at the Sound Academy (more photos...)
photo by Clint Gilders - staff photographer
by
clint gilders
- clubkingsnake staff
April 25, 2008
The Sound Academy (formerly The Docks). Toronto, Ontario
There was a weird vibe surrounding The Sound Academy when I arrived for the co-headliner Protest The Hero/Chiodos show. I wasn't in a bad mood so I don't think it was transference on my part. Au contrair, I've been excited about this tour, dubbed "Beer The Musical", since I heard about it well over a month ago. Also when I mentioned my felling to a few others they pretty much agreed and were glad it wasn't just them. After some serious consideration (lord knows I must have spent 10 minutes thinking about it) I think it may just be growing pains. What was once The Docks is now the Sound Academy, and seems poised to become the go-to venue in Toronto for not-quit-big-enough-to-play-arenas bands.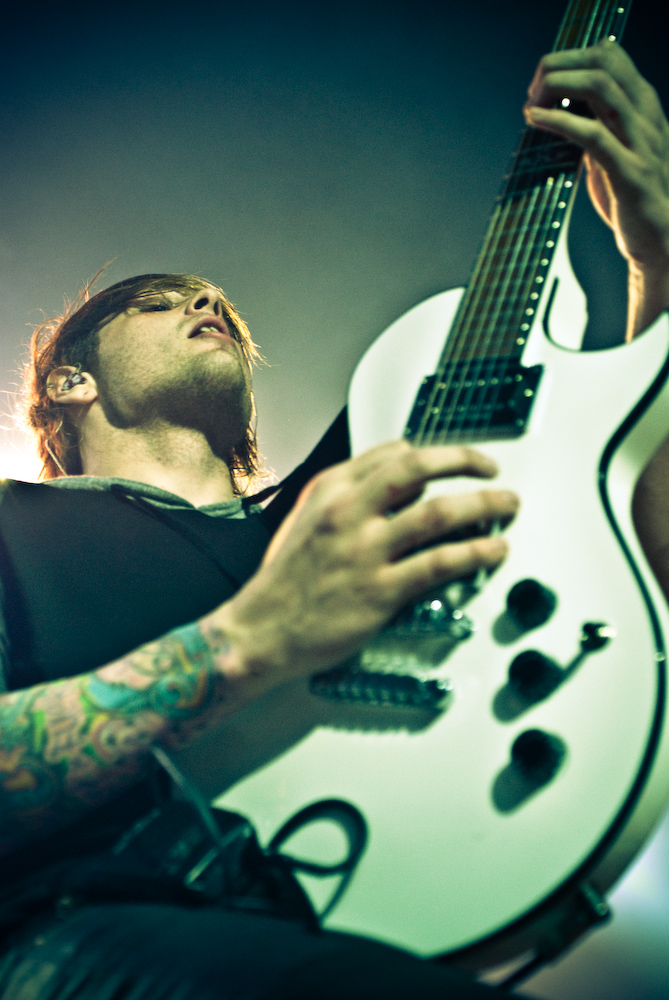 From First To Last at the Sound Academy (more photos...)
photo by Clint Gilders - staff photographer
The opening act of the night was a recent signing to Underground Operations (UO) going by the name of Lights. UO founder London Spicoluk never ceases to amaze me with his diverse, seemingly out of character signings. Lights plays electro pop with little bit of an edge to it and describes herself as "..a small girl who dwells in Toronto and makes music. Most of what you hear comes out of my bedroom". This description paints a somewhat different picture to the confident, relaxed, powerful woman I met at The Sound Academy. Sure she was a little surprised by the size and fervor of the crowd and even quipped that this was the first time a circle pit had eruptd at one of her shows, but she handled it all in stride.
Continue reading "Concert Review: Protest The Hero and Chiodos at the Sound Academy"
Thursday, March 6. 2008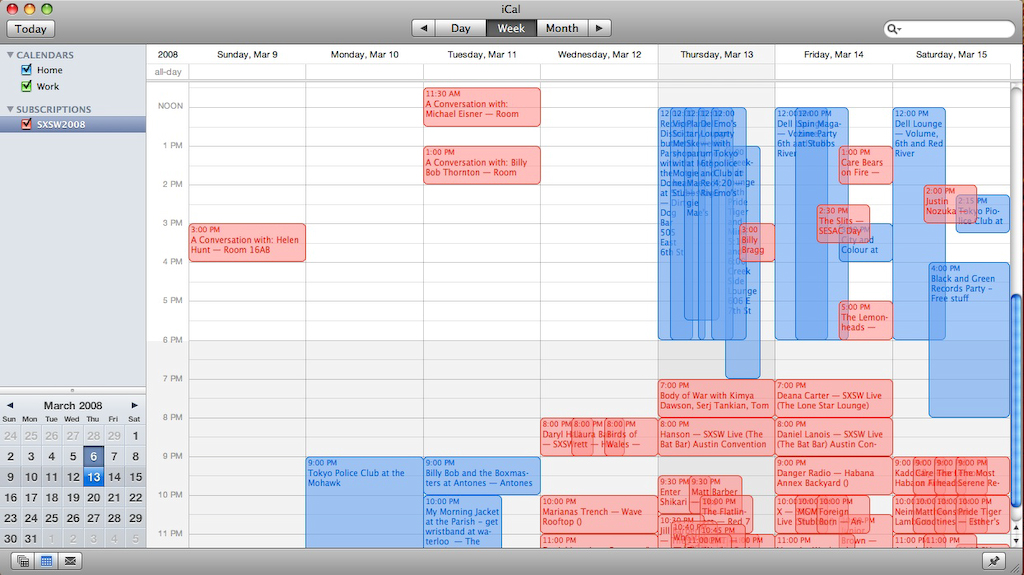 It's just over 48 hours until I leave for South By South West. I really can't believe how packed my calendar is. I have scoured
Austin Tx, Showlist
for all the non-sxsw parties, festivals and showcases that look cool. I have spent waaaay too much time on
sxsw.com
going through the band list, and I've also been poking around places like
SXSW Baby!
see what other intelligence I can gather.
SXSW 2007 nearly killed me. That might be a slight exaggeration,
but only slightly
.
This year's gonna be different.... This years gonna be different..... Say it with me "This years gonna be different." I'm going to have a plan when I set out each day. That will probably last until I hit 6th street and a cool day party beckons or my nose leads me to some Tamales or
breakfast burritos
. So as I forlornly stare at my quintuple booked thursday afternoon, here's a list of shows,parties, other happenings that I am leaning toward attending or are at least on my short-list.
Continue reading "SXSW 2008: Here it comes!!"
Wednesday, February 20. 2008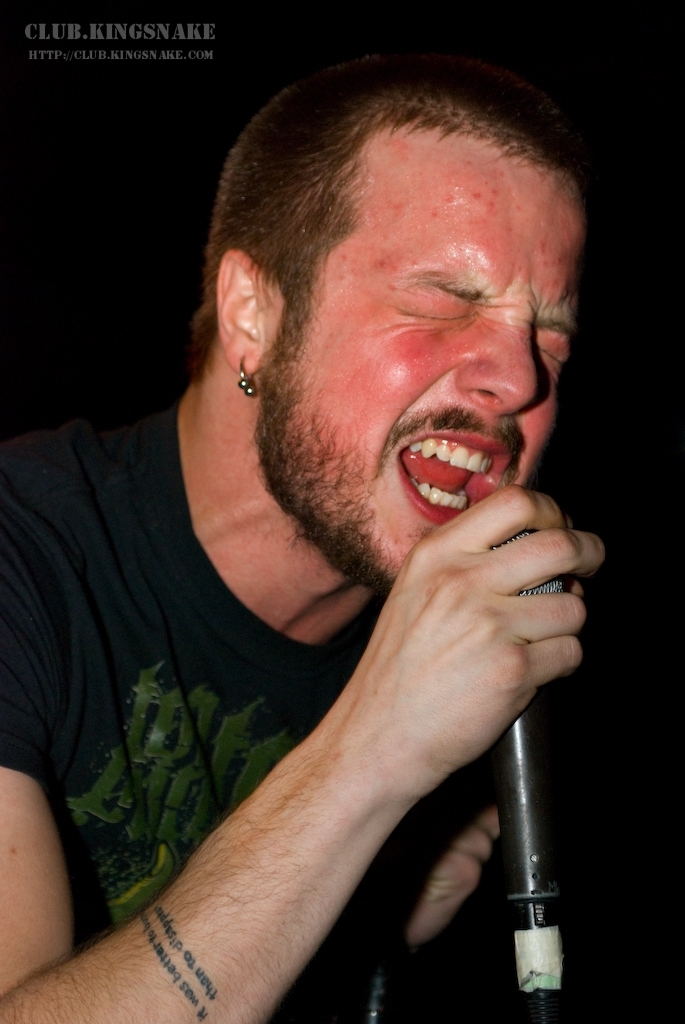 Rody Walker of Protest The Hero - more photos...
photo by Clint Gilders - staff photographer
by
clint gilders
- clubkingsnake staff
Protest The Hero
Hometown: Whitby, Ontario, Canada
http://www.myspace.com/protestthehero
Protest The Hero Concert Photos
Friday February 8, 2008
The Kool Haus
(Toronto, Ontario)
There's not much I can say about protest live that hasn't been said
here
and
here
and
here
and
here
before.
Only the day before,
Fortress
had debuted at Number One on the Canadian album charts. There couldn't be a better time for PTH to play in Toronto. Tickets were scarce on the night of as was made evident when I queued up at the will call to pick up my photo pass for the show. One lucky person managed to buy the last two tickets available at the box office, while many others were left disappointed.
In classic Protest fashion the stage was lined with friends and family (I spotted at least a couple of the guy's mom's and dad's). The 40 minute set opened with the lead track from
Fortress
"Bloodmeat", and steamrolled on through "The Dissentience" and several other new songs. I wish I'd kept better track of the set list but my attention was focused on navigating the claustrophobic photo pit and later on securing a vantage point from the crowd. While the promoter had only sanctioned two photographers (myself among them) it appears that the boys in Protest had handed out photo passes to just about everyone with a digital rebel and kit lens who'd asked. With the pit full of security the likes of which you only see at a PTH show, at least a dozen photogs and a couple of videographers, frequent visits from crowd surfers, and dim stage lighting this was an exercise in careful maneuvering and cautious shooting. I think we actually got to shoot from the pit for four songs, and then were given free reign to shoot from the audience.
Continue reading "Concert Review: Protest The Hero at the Kool Haus. Toronto, Ontario"
Monday, February 18. 2008

Tom Morello at SXSW 2007 - more photos...
photo by clint gilders - staff photographer
In case you missed it, over the past couple days SXSW has listed a few more artists for this years music festival. Van Morrison will be playing a SXSW gig at La Zona Rosa in addition to his non-SXSW gig at the Austin Music Hall. Legendary punk band X will also be performing over at Emo's.
For all those doubting Thomas's and those that overlooked the fine print, there is a band listed as Body of War, after the film of the same name, and if you look at their listing it lists them as being Kimya Dawson, Serj Tankian (System of a Down), Tom Morello(Rage Against The Machine) and
Special Guests
. One can only wonder if my rumors of an Eddie Vedder or Rage Against the Machine surprise appearance are coming closer to fruition as their
Special Guests
. Certainly seems to be, what with Vedder having produced the soundtrack, the movie being shown at the festival, and with many of the artists from the soundtrack in town.
In other Austin Music News...
National Product has been gathering some steam ahead of their visit to Austin's Red 7 tomorrow, and their show promises to be the hot set of the night. Tracii Gunns will be bringing his version of L.A. Guns to a new venue, the Rock City Icehouse, on Wednesday night.
On Friday Feb 29th NOFX, Flatliners, and No Use For A Name will be filling up the pit over at Stubb's, and Saturday March 1 Marilyn Manson and Ours will be playing over at the Austin Music Hall. On Sunday March 2, Built To Spill and The Meat Puppets will also be at Stubb's. Guitar virtuoso Pat Metheny will play the Paramount Theatre on Tuesday March 4th, the same night Willie Nelson opens at the Star Of Texas Fair & Rodeo at the Travis County Expo Center. Dropkick Murphy's play Stubb's on Friday March 7, then Protest The Hero plays Emo's on March 8th.
Looking out past SXSW we have some interesting stuff on the horizon. Acid Mother's Temple plays Emo's on March 17, Bob Mould at Antone's on March 20, The Moody Blues at The Austin Music Hall on March 21. New Model Army from the U.K look like they finally have their visa issues cleared up and will be playing at Elysium on March 28.
Willie Nelson will be playing the "new" Long Center on March 29th, the same night as Les Claypool over at Stubb's. Liam Finn, son of Crowded House/Split Enz founder Tim Finn, will be playing the Parish on April 2. George Clinton and PFunk will be playing the Swamp Thing / Crawfish Boil Festival on April 5th. Dropping Daylight and Sick Puppies over at Emo's on April 7th.
La Zona Rosa hosts Manchester Orchestra and Say Anything on April 9th, then Armor For Sleep and Saves The Day on April 10. Ministry will play La Zona Rosa on April 15, Buddy Guy and The Dirty Dozen Brass Band at Stubb's on April 18th. Panic at the Disco plays Stubb's on April 19th, followed by Cat Power the next night, and then Behemoth the following night.
Rush plays the Frank Erwin Center on April 23, David Allan Coe plays Stubb's on April 25, Joe Jackson plays The Paramount on April 28. Billy Talent and My Chemical Romance play Stubb's on April 28, and then to end out April we have Kanye West and Lupe Fiasco at the Frank Erwin Center on April 30.
Even without SXSW that's a lot of good music.
Technorati Tags:
SXSW
,
Serj Tankian
,
Tom Morello
,
Eddie Vedder
,
Van Morrison
,
confirmed
,
rumor
Friday, February 8. 2008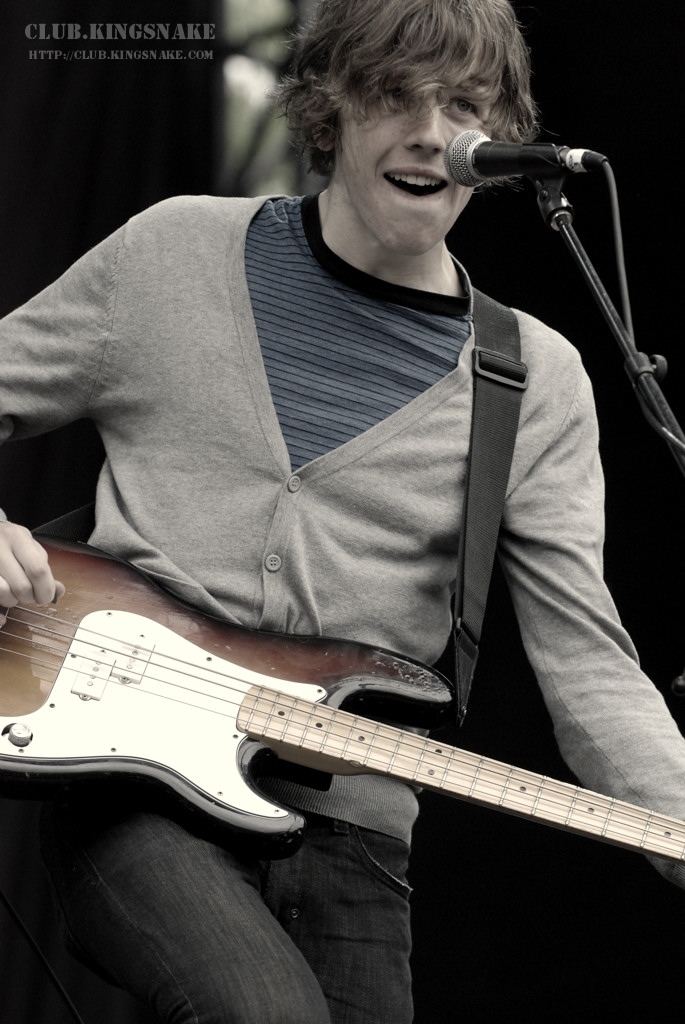 Tokyo Police Club
photo by clint gilders - staff photographer
I could hardly believe my eyes as I perused the
SXSW 2008 Biglist
. Yeah, there are cool bands coming from all over the world, but the 100+ acts making the pilgrimage from Canada set my mouth watering.
There are some real heavy hitters making their way south. Uber-producer and singer/songwirter
Daniel Lanois
, Alt-Country-Rock giants
Blue Rodeo
, Toronto indie institution
Constantines
, Dallas Green's
City and Colour
, Indie-A/V club-garage rockers
Tokyo Police Club
, the outspoken
Matthew Good
, enigmatic
Hawksley Workman
, and upstarts
Marianas Trench
and
Pride Tiger
to name just a few.
Who's not on the list, but I wish they were?
Hello Operator
,
Protest The Hero
(though they'll be in Austin during SXSW),
Machete Avenue
,
Cities in Dust
,
Kill Rhythm
, and
The Johnstones
come to mind. Maybe next year.
Full List (as of Feb 8, 2008) below:
Continue reading "News: SXSW 2008 - Canadians set to take over Texas"