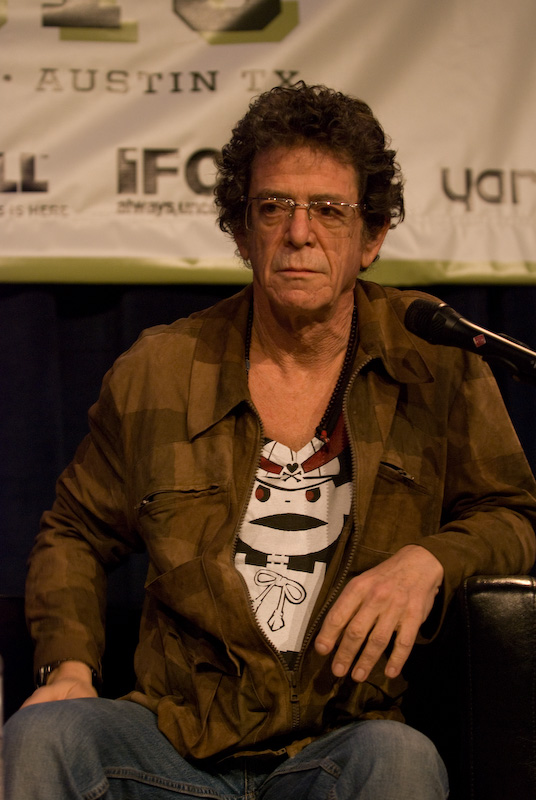 This morning, Lou Reed will be giving the keynote address for the SXSW Music Festival in Austin, which starts at 11:30 AM Eastern Time. I saw him yesterday at the U.S. premiere of "Lou Reed's Berlin," after which he did an audience Q&A.
As has been usual here in the Austin Convention Center, there's almost no internet access whatsoever, and I may or may not be able to update this as I go along.
This is a live record of the address. I'm typing it in real time and there will be typos. Only things in quotation marks are direct quotes; anything else will be a paraphrase or summary. If you're reading in real time, hit "refresh" now and then to see new material.
Clint is here shooting and
we'll get photos added to this post as soon as the Internets allow
I have updated with photos.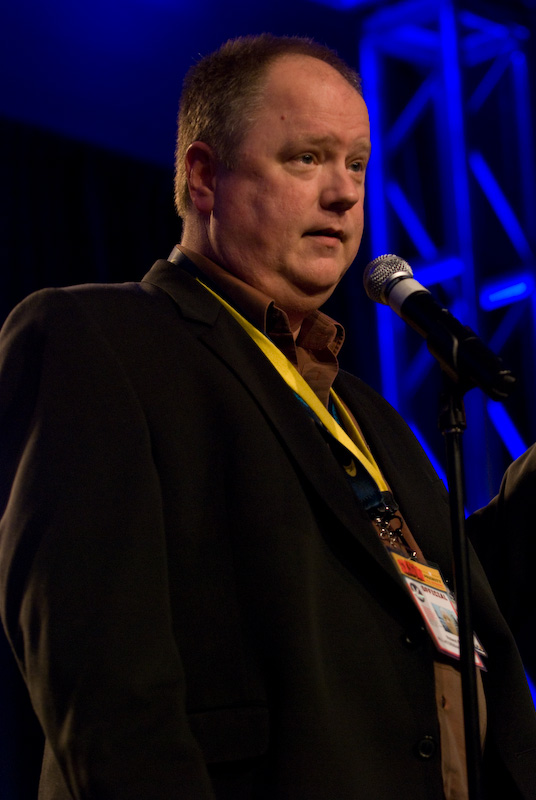 Roland Swenson one of the founders of SXSW, welcomes us and thanks us for coming out early this morning after a late night.
Last year he stood before this audience and said he feared the war would still be going on and none of the political candidates would be acvocating an end to the war in Iraq... and that was true. Three trillion dollars for the war. What we spend on the war every three days would provide health insurance for every child in the country who does not have it. Conservative pundits say the war is going well. The families of the soldiers who died in the last week would probably disagree.
The good news is that this time next year, we'll have a new president. Normally 75 people attend his local caucus -- this year, 400. "A posture of disaffected cynicism is a luxury we can no longer afford." To quote last year's keynote speaker, Pete Townsend, let's get on our knees and pray we don't get fooled again.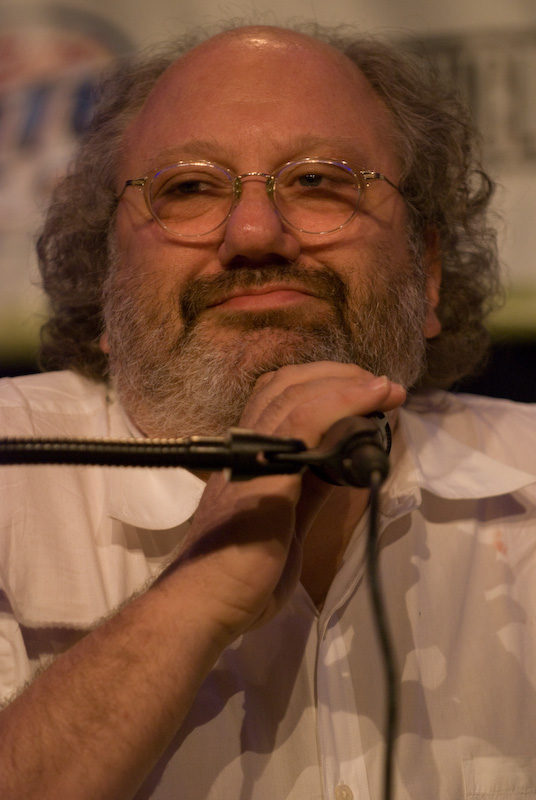 Introduces Louis Black, fellow SXSW founder and editor of the Austin Chronicle.
Lou Reed is such an impotant and influential artist that he's actually, for the first time, nervous. Says SXSW is about artists who are following their vision. If they weren't successful, they keep doing it anyway. They are driven. They have to do the work they do.
Lou Reed has always stayed true to his vision, and he has always inspired other artists because of that.
Standing ovation as Reed takes the stage. Hal Wilner is with him.
Reed calls Wilner one of the great producers, and his friend. They have worked together a long time.
Wilner says he feels like Tony Soprano and his shrink.
"Pretty funny, huh?" deadpans Reed. "Good thing you're a producer."
Wilner said yesterday they showed the American premiere of Julian Schnabel's "Lou Reed's Berlin." Less than half the audience had seen it, though.
Wilner:
Lou's heard this before, but this is one of the great things he did (Berlin). Lou is sort of the rock and roll Miles Davis as far as more than half a dozen times, what he does has basically changed the direction of rock and roll. You can't deny the influence of the Velvet Underground, Transformer, Street Hassle, Metal Machine Music.
It is an amazing thing to be be able to put it on stage with choir, strings, horns, the original producer... all from 1973.
"Worst album ever made," "Most depressing album ever made" Reed says, quoting reviews.
Reed:
Only a couple of successes, Wild Side, Berlin, Rock and Roll Animal. Berlin was used in a lawsuit against me by management to show why I shouldn't be able to handle my own affairs if I made a record like that. A great example for those seeking guidance in the music industry.
New York was a baby success.
Wilner:
People call Billie Holliday records depressing, but they're also very healing.
Reed:
Tour is going back out this summer, but only in Europe. Staged originally in Brooklyn with New York people except for Rupert on keyboards. But not in LA, music business town. Not in the states. For those of you who went yesterday, that's what we wanted to show you.
Wilner:
So we'll show you a bit of the film now.
Reed:
Julian Schnabel who did the Diving Bell and the Butterfly and is a great painter did this. His daughter did a lot of super 8 and 16 shown in the background.
Showed clip of "Men of Good Fortune" from film.
(I'm not sure where Clint is, but I thought yesterday when I saw the film that if he could see one song, it should be this. I wonder if he liked it? The guitar work.) Wilner says: "We were comparing our goosebumps" while we watched.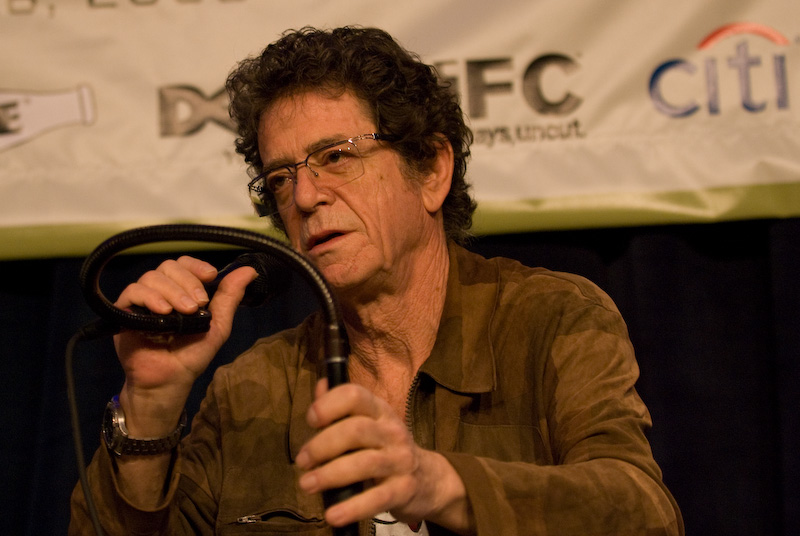 Reed:
It's such emotional music. If you put powerful music with meaningful music.... that's why they score films. Talks about the political situation in 1973 and now.
Schnabel calls film "most romantic." Reed says in the way Desdamona's story is romantic. It's about jealousy that turns into physical abuse. "That's what Berlin's about." He says he doesn't know anyone who's never been jealous, so he thought people could relate to it, rather than being offended by it. He understands people won't like all the work you do, but to dislike it for its subject matter he thinks is narrow-minded.
Wilner says they have questions from their website. Says one of the beautiful things about this project was the relationships. Great Steve Hunter on guitar, one of the original Rock and Roll Animals.
Reed says the Rock and Roll Animal Band was Alice Cooper's band, but they weren't working so Ezrin said they should work with Reed.
Someone's cell phone rings. Reed says, is there some special way to say "turn off your cell phone" in Texas? "Howdy? Shove it in a cow?" Then he says, loudly, "JOKE."
When they started out Wilner was doing a Brecht record.
Wilner said they weren't really "tributes," just things he wanted to hear. He had the idea for Lew to do "September Song." He developed relatoinships with two artists on that project that he's kept working with, Lou and Marianne Faithful.
Beyond Steve Hunter, everyone on that stage had a great relationship with Lou... Sharon Jones, Tony Smith, Fernando Saunders, Antony, etc...
Lou: These are people in New York we know. We had a cast of thousands in St. Anne's Warehouse, that holds 650.
Wilner:
Asked about work with visual artists... Warhol, Laurie Anderson.
Reed:
I was always interested in people I was reading. Songs are short. Visual image should be something you can see quickly. Raymond Chandler says things like "That blonde was as pleasant as a split lip," and you got an image, and that's what I tried to do. Repeating a line over and over.
Wilner:
Velvet Underground's musick was cited by Havel as having inspired the Prague Spring of 68. Do you think that musick has that power today?
Reed:
"Well, I asked Pres. Havel, can music change the world?" And he said, "Not of itself, but it can change the individiual person." People can get together singing songs, and then start talking about what they can do to change the world.
When writing Velvet Underground music, he was aware of Leonard Cohen, Ginsberg... human relationships and situations and crime and dope and violence, all in a contemporary idiom. And no one was doing that.
Wilner:
Any memories of Velvet Underground playing Austin?
Reed:
Some rich guy flew us in to Dallas. One of those "this is mine as far as you can see." We were sleeping on the floor, we said fine, fly us in. You should be young when you start this. Sleep in subways, movie theaters, lobbies. You get older you can't do too much of that.
Wilner:
Did Warhol ever paint you?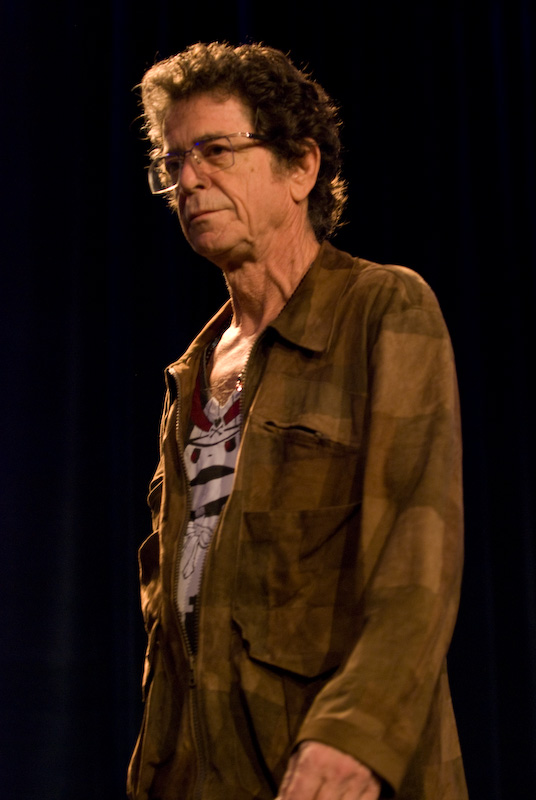 Reed:
No. He did a thing called screen test, sets the camera up for three minutes and walks away. He never says you have to stay. But people stare into the camera and they start to dissolve into themselves. They show it ih galleries an museums periodically.
Wilner:
Talked about Dali's screentest at the Tate Museum.
Reed:
What an amazing show.
People want to know how you write a song, and I don't know how it works, or why it works. If I did, I'd have written "Son of Wild Side" and own an island in the Caribbean. He studied writing, and was reading Beckett, and he thought well, it would have fun if we had two characters over here, and that would be fun. I don't know if that actually qualifies as "an idea," but it hadn't really existed.
Punk rock was for people who didn't grow up hearing the great soul, R and B guitar, but they were rock people, very pure. That's what we wanted for the Velvet Underground. No R and B licks, no soul licks. Because we can't play them. This is going to be different. City, pure.
Punk to me was aggressive steel street action. And I saw those bands doing it last night. All that young guy stuff? That's punk. And nobody can beat that. And now it exsists. And it always will, because where else are they going to put it? It's either there or jail.
Wilner:
One thing that amazed him when he saw the Berlin film was after the encore, when Reed did "Rock Minuet," and that's not from long ago, so if anyone thinks Reed has softened... this is a great song, strong, edgy, powerful... as much so as anything he's written.
Reed:
Schnabel said you have to do "Rock Minuet." I said they don't know it, they don't care. Julian said, "I know it. I love it. Play it for me." This song is out of the same world as Berlin, just coming in another door. "It's so beautiful. Exactly the kind of thing music industry critics would hate." He said it was like work of the author of "Last Exit to Brooklyn."
Wilner requested some of the lyrics and Reed recited some.... this is not a song I love or know well, but I think he got the lyrics slightly wrong. Wilner corrected him at one point.
"People say, is this stuff real?... How would you know that? You're joking right?" "I have a BA in dope, but a PhD in soul." (Applause.)
Wilner:
If you could play another instrument what would it be?
Reed:
Saxophone. "I'm in love with Lee Allen." I always wanted to see if it's possible to get that Lee Allen tone. The other thing I like is the most extraorindary instrument I've ever seen, the mini mood voyager. I'm not a keyboard player. It's an analog synth. "Imagine God showed up and said, I will give you nine thousand new sounds. That's my idea of heaven." "I have to have a young person with me to explain even how to turn it on. That being said, the thing I have going for me is instinct. I can feel it. I try not to think. Thinking won't get me where i want to go... instinct makes the music."
Wilner:
Did you ever regret giving up being an accountant?"
Reed:
I was never an accountant, I was a typist. "My mother said, take typing so you have something to fall back on."
Wilner:
Is the album dead in the digital age?
Reed:
Mp3s make so much more available, but they sound terrible. If you really like good sound, you need good equipment to play good sound with. It's a black hole of good sound. The guy making it, if he cares about good sound, needs a mic, needs a cord. It's expensive. The price goes up. I don't know what the answer to that is. "People have got to demand a higher standard. Or the other way is to say you're being elistist. Only people with money can afford to have good sound, so fuck you." "What do you think, Wilner? You're a producer."
Wilner:
The ability to take tracks off that aren't singles. Like taking just single scenes from good movies.
Reed:
Bourne Ultimatum is my favorite movie, and I was looking through it looking just for the martial arts scene.
Wilner:
That's YouTube.
Reed:
But look at how it looks.
Wilner:
It's like David Lynch talking about the iPod, about movies just the size of a stamp, and I'm thinking where was he when I was complaining about the MP3?
Reed:
"It's like the technology is taking us backwards. It's making it easier to make things worse." "There's no way a solid state amp is going to beat a tube amp. Unless they finally run out of tubes, but I think they'll run out of oil first. And you don't see a war being fought for tubes, do you?"
He listed some music he's currently listing to, but unfortunately there was an outburst of noise near me and I missed a lot of it. Said he looks to young groups for amazing energy, and he just loves it.
From audience: How can artists make money? Asked about the use of Reed's music in films and if and how he owns his work.
Reed:
My advice, "when they dangle it in front of you to sign whatever, these days you have the internet, what do you need them for? But if you do, they're goinna say, they want the publishing, and you must always say NO. That's where the money is.... if they don't want you without the publishing, don't go. " "It's my baby, it lives in my house. Don't give up the publishing."
Wilner:
Often they'll tell you they won't use you without the publishing, but keep your vision. Keep strong.
Will anything else get the "Berlin" film treatment? Maybe "Metal Machine Music"?
Reed:
"Metal Machine Music was what they call a career ender." There used to be clauses in contracts that said you promise never to do anything like MMM. But they didn't anticipate industrial rock. "As far as otyher albums, Berlin wasn't an audition to do more of these things, but I think doing Magic and Loss would be very thrilling. Street Hassle... oh well, I dream on."
He raved about the combination of talent and intelligence and the use of the computer, can even transcribe harmonics. Some of these people are geniuses.
Wilner:
Anyone who says the music industry is dead should walk into Amoeba on Sunset, it's not the music business is dead, it's just THAT musis business.
Reed:
John Zorn.
Wilner:
It's a brilliant concept. He has his own club called the Stone.
Reed:
Holds sixty people. Can't order a drink. It's like a concert club for people who really like music.
Someone said to me as we were getting ready to go on tour, "Lou, touring's like going to jail. You don't want to get fucked." And on that note....
Standing ovation.
All photos by Clint Gilders.