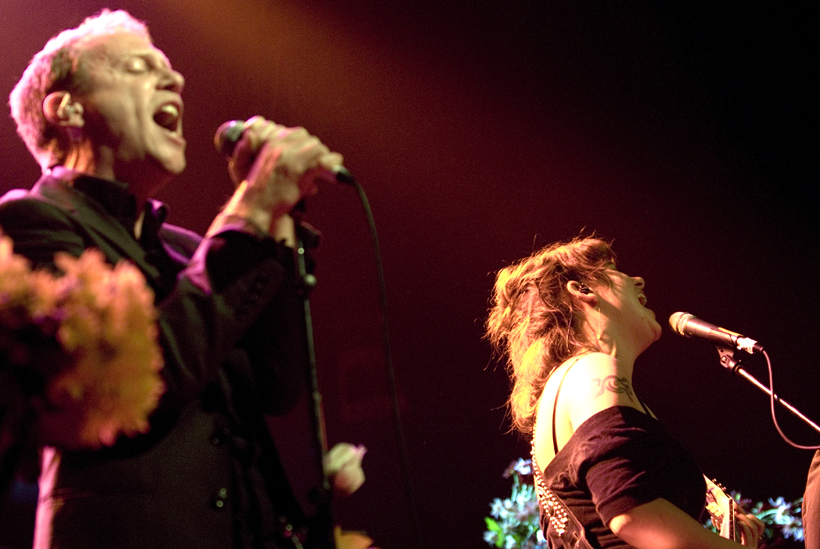 Torquil Campbell and Amy Millan of Stars - more photos...
photo by John Hargraft - staff photographer
by
clint gilders
- clubkingsnake staff
club kingsnake staff
Stars
Hometown: Toronto/Montreal, Canada
http://www.arts-crafts.ca/stars/
Stars Concert Photos
Wednesday Nov 28th, 2007
The Phoenix Concert Theatre
(Toronto, Ontario)
I'll admit knowing little of Stars before the show on the 28th. Seeing that they had sold-out four nights at the Phoenix was what piqued my interest. I'd also missed their set at
V-Fest
in September and this was my chance for redemption
As I arrived there was only a short line but, by the time Stars hit the stage at 10:00pm, the club was packed shoulder to shoulder.
The new guy John Hargraft was handling photo duties for the night and I didn't envy him having to work his way to the front. There was no barrier in front of the stage and thus no photo pit. This was Guerrilla shooting - snap and run, begging forgiveness from the die-hards in front.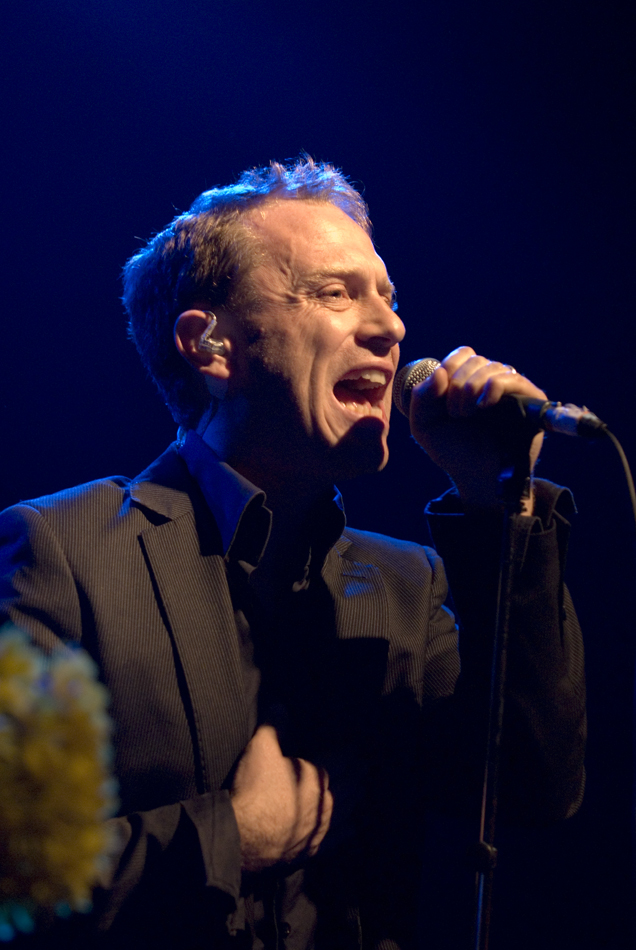 Torquil Campbell of Stars - more photos...
photo by John Hargraft - staff photographer
The stage dressing reminded me of The Killers; all amps drums and keys covered in flowers. Stars entered the stage to deafening applause and opened with "Take me to the Riot". As each song unfolded I just just fell more in love with Stars. The beautiful call-response vocals of Torquil Campbell and Amy Millan simply astound. Amy's delicate vocals juxtaposed with her oft raging guitar work created a thrilling counterpoint. "The Ghost of Genova Heights" was even more otherworldly performed on a darkened stage with Campbell in a white light adorned jacket.
You could also feel Torquil's honest respect and adoration for the crowd. "It just keeps getting better at the Phoenix", "You're making my mother very happy", "you bought the tickets, it's a Fu*kin' dream". There was also an honest 'F' you to a highschool coach and a song (about people having sex with him until he dies of a heart-attack) dedicated to him.
Once a little indie band, Stars are poised on the edge of greatness and Toronto was more than happy to provide them a four night send off.
Click Here to view the Setlist