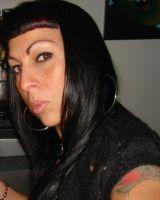 Musical Career
Metal - 1996 to date
I discovered the joys of metal whilst in the States, and bought the love back to the UK with me in 1999. Bad Religion, Life of Agony, Downset, Madball, Type O Negative, Agnostic Front, Biohazard and Sepultura were getting big here, but I was already two steps ahead.
Nowadays my purchases are mostly metal, or more specifically misery metal as my mate calls it. If I do an iPod shuffle you'll certainly get some Staind, Alterbridge, Tantric, Cold, Incubus and Puddle of Mudd. But hey, you can still get all of the stuff from my past mixed in with that too. Life is supposed to like a box of chocolates, mine is a bit like a box of rattlesnakes! Read on!
Grunge - Circa 1992
American grunge seemed to take over the world of music for a while and I was smitten. Chris Cornell, Mark Arm and Eddie Vedder still make me swoon but my car was pumping out Smashing Pumpkins, Alice in Chains and Mother Love Bone. Chillies will always rock, Jane's Addiction will never be cool and I still chuck on Mudhoney when I'm grouchy. I miss Nirvana. I spent my inheritance on gigs and tours and moved to LA to seal the deal.
When I arrived there I quickly got familiar with the scene and worked as a press photographer for the music press. I got work with LA Weekly Media, Terrorizer, Metal Hammer and Kerrang and those press passes sure came in useful! (I said those press passes sure came in useful!) Interviewing Johnny Ramone was just so cool!
Punk, New Wave and Goth - Circa 1988
Clubbing in the UK during the late eighties meant really bad pop. Personally I would rather have spooned my eyes out. Instead I got into the alternative scene; flicking through my vinyl from those days throws up names like The Cult, Killing Joke (did you know Nirvana nicked their riff for "Come As You Are"?) Sisters of Mercy, The Mission. The UK punk scene was still bringing it on with The Clash, Skids, Ruts and Exploited. Back that up with the DKs and the Ramones and you almost have me covered.
Leaving the best till last brings up my favourite band ever. Touring with New Model Army was how I wasted my youth, but at least I got to travel around the UK, Europe and some of the States with them. I still wear Yorkshire Clogs occasionally and most of the Militia are scared of me.
Rockabilly & Psychobilly - Circa 1983
My mum made sure I had a great musical education, bringing me up on Bill Haley, Gene Vincent, Chuck Berry, Gerry Lee Lewis and Elvis. I tried to rebel but only got as far as the Psychobilly scene. Guana Bats were friends of mine, whilst the Long Tall Texans, King Kurt and the Sting Rays got me Stomping at the Klubfoot. The US rocking scene is cool and I love the Cramps, but I think we can give you a run for your money in London. We invented this shit after all!