Thursday, November 19. 2009

Click here to check out the rest of the pics.
photos by Michael Hurcomb - Staff Photographer



Brand New with Glassjaw
November 21st, 2009
Kool Haus
Toronto

Glassjaw, the very influential post hardcore band, are very interesting to see live. Playing to the audience seems like an afterthought to them. They quartet faces each other as though they were jamming in a garage, making constant eye contact with each other, and with the bass players back facing the audience the entire set. Singer Daryl Palumbo breaks away from the rest to dance, jump and interact with the crowd. The eager crowd doesn't seem to see any of this as bad showmanship. From their reaction this band can do no wrong. Definitely work checking out - especially if you've wondered what Rage Against the Machine would sound like if they were heavier and more experimental.

The Kool Haus holds 2500 and most bands play their for one night. Brand New packed it both nights in a row! And their fan-base is a perfect storm of emo teens & collar popping young adults, all willing to shell out $ for as much merch as they can get. Jesse Lacey could have been Robert Pattinson based on the crowds screaming reaction to him. It's been a long time since I've looked over my shoulder in the pit to see the girls singing and crying tears of joy at the same time. This pop punk / alternative band are still reaping the success from the release this fall of their 4th studio CD "Daisy" (reached #6 on the U.S.) chart. I really enjoyed the sound textures in their material as well as Jesse's ability to command a crowd. His ability as a lyricist paired with Brand New's songwriting talents will ensure prolonged success.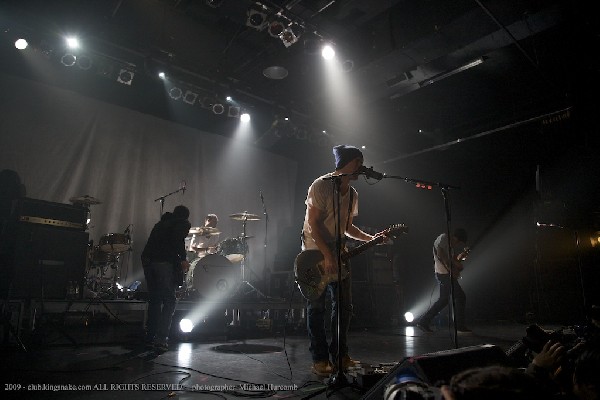 Friday, November 13. 2009

Click here to check out the rest of the pics.
photos and review by Michael Hurcomb - Staff Photographer



Wolfmother with The Heartless Bastards and The Newno2
Kool Haus
November 11th, 2009

Gotta get this out of the way. Andrew Stockdale (the singer) from Wolfmother looks like Carrot Top. There I said it. And while I'm at it Dhani Harrison from thenewno2 looks a lot like his dad George....Harrison....from the Beatles.

I'd like to 1st review the show lighting from a photographer's point of view. It was bad - too much red and green. But that's my only gripe. Thenewno2 are a great sounding band with some great lineage. You can hear the similarities between Dhani and his father but it's not in a bad way like Julian Lennon - sorry Julian but "Valotte" sucked. Thenewno2 was the band I was most looking forward to tonight and their 6 song set left me wanting more. Gotta get this Cd.

The Heartless Bastards came out screaming and didn't stop. There set was a mix of fantastic vocals and guitar from Erika Wennerstrom and a solid pulse from the rest of the band. The crowd really came alive when they hit the stage after being more subdued for thenewno2.

Wolfmother are back with their 2nd album "Cosmic Egg" and a new band. Founding members Chris Ross (Bassist and keyboards) and drummer Myles Heskett left the band due to "irreconcilable personal and musical differences" leaving Stockdale to bring in 3 new members and a new energy. The addition of a 2nd guitar really helped during "Woman" when Stockdale knocked his mic stand over, tried to recover it and dropped his guitar. Minutes later everything was OK but the band never dropped a beat. The crowd loved them but I really couldn't get into it. I like the music but the show was almost "paint by numbers". Jump here, riff here, pounding drums. Just stuff we've seen and hear before but nothing groundbreaking. Cool band but not sensational.