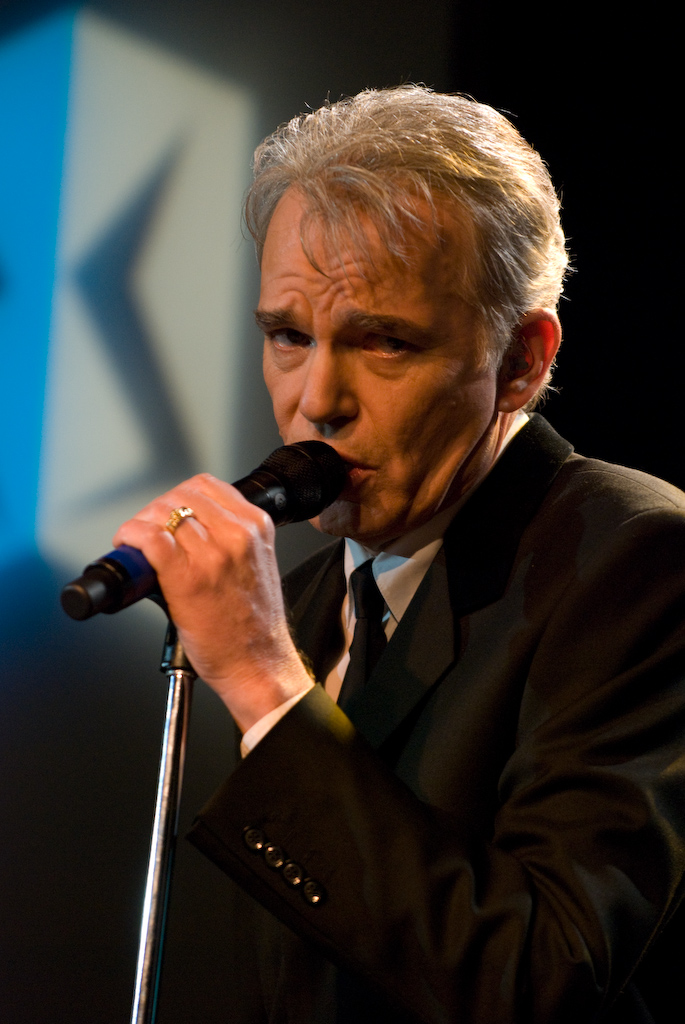 Billy Bob Thornton - more photos
photo by Clint Gilders - Staff Photographer
Well July is not over yet so let's start there first...
Tomorrow at La Zona Rosa Quebec based indie band Wolf Parade bring their tangy, twangy sound to Texas. For those seeking a more traditional AOR live music experience a short drive south at the Verizon Wireless in Selma will get you shows by noted 70's bands Cheap Trick, Heart, and Journey. I'm a huge fan of Cheap Trick so I have asked Gary and Jay to get me a T-shirt when they go down to shoot it.
Saturday Billy Bob Thornton and the Boxmasters will be playing at Stubb's, and I will be heading down to Selma and the Verizon Wirless again to have my ears drilled out by the Mayhem Festival, headlined by Slipknot and Disturbed and a dozen or so other artists that specialize in loud driving rock. We are hoping to corral our buddies in 5 Finger Death Punch for an interview and who knows who else we might corner in the process. Tickets are still available for all these shows.
Ok, now onto August.
Junior Brown will be over at Antone's on August 1st, on the 2nd Less Than Jake is over at La Zona Rosa. Also on the 2nd is the No Fear Music Tour with Bleeding Through, Bullet For My Valentine, and The Cancer Bats over at Stubb's.
311 and Snoop Dogg have a 2 day gig, August 2nd & 3rd, out at The Backyard. Rumors are running high that Willie Nelson will do a walk on appearance with Snoop at at least one of the gigs but my sources are being tight lipped on the subject.

311 - more photos
photo by Jeff Barringer - Staff Photographer
The re-vamped Blind Melon, minus their original frontman the late Shannon Hoon, will be over at Antone's on Tuesday the 5th. I was a big fan of them back in the day so it will be interesting to see if they can still capture that old magic.
On the 6th you have a choice of The Hold Steady over at La Zona Rosa or Emmylou Harris over at Stubb's. South African rockers Seether along with Red and Safetysuit will be over at Stubb's on the 8th and we are already hooked up to shoot the show. Lyle Lovett plays the Long Center on the 12th.
On Wednesday the 13th Hinder, Staind, and Theory Of A Deadman all play at the Bell County Expo Center just a short drive north in Belton. Toots & The Maytals will be at Antone's the same night. Slide guitar legend David Lindley of El Rayo X will be at UT's Cactus Cafe on August 15th. Joe Ely will be over at Threadgills, also on the 15th.
The Melvin's will be playing Emo's on the 22nd and My Morning Jacket plays Stubb's on the 24th. Down south in Selma on August 24 the metalheads take over once again with Heaven And Hell, Judas Priest , Motorhead, Testament at the Verizon Wireless Amphitheater followed on the 26th by Steve Winwood, Tom Petty & The Heartbreakers .
Dropping Daylight drops into Emo's on August 27th, and on the 28th the Gipsy Kings play at The Backyard. Colin Hay of Men At Work rounds out the month at The One World Theatre on the 30th.
That's it for August!