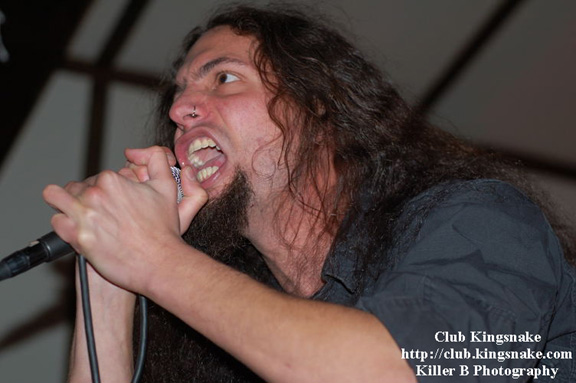 Sean Farber of Daath at the Old Orchard Inn
photo by staff photographer brian rampacek
Daath
See you Next Tuesday
Psyopus
Job for a Cowboy
Old Orchard Inn
Menomonee Falls WI
Never having been at this venue before we arrived early. Very early. And when I got there, I felt like I'd gone back to high school.
Brian and I spent the first hour just watching the kids. It was like a hot topic fashion show. One girl was sporting a "home-made" magic marker tattoo on her arm of an upside down cross, all while wearing a Norma Jean t-shirt. Every time I saw her, I wondered if she realized the confused message she was giving. Also, ballet slippers have apparently made a fashion comeback. As far as I can tell, the only thing ballet slippers are good for at a death metal show is broken and bloody toes. One of the teeny boppers commented on my combat boots as I walked out of the ladies room. I got my revenge later in the evening, as I saw them all complaining about their sore feets. Ladies, I know
Doc's
are still cool. Get yourself a pair.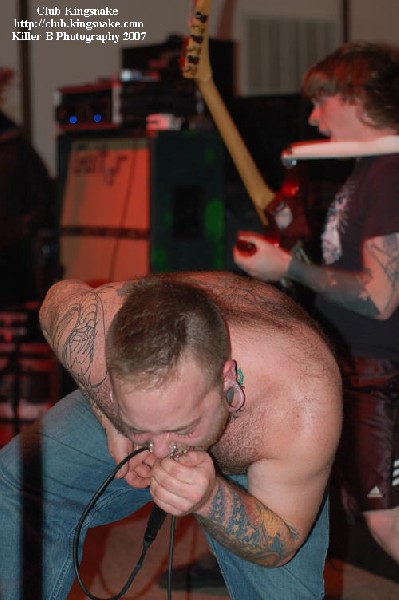 Fox of See You Next Tuesday at the Old Orchard Inn
photo by staff photographer brian rampacek
The show, however was amazingly packed. While the venue didn't offer niceties such as a photo pit, it did have decent sound, and that was all that mattered to me.
Each band's set seemed incredibly short. The show started around 8 and by 9:30 we were already through the third set of the evening. A little taste of each flavor, leaving you yearning for more - so you run out and buy the album.
Daath is a band I was really looking forward to, after reading reviews of them from earlier in the year by Jeff and Tom, and checking out their myspace page. They have a very Seattle thrash feel to their music. Heavy as hell chunk with melodies reminiscent of Testament. Their solos had a polished and almost progressive sound to them. The drums were set a little too loud for my tastes at times, drowning out everything else. It was the guitars I wanted to hear. The solos brought back days of old, when thrash had virtuosos like Alex Skolnick and Marty Friedman. Not as complex, but still in the same vein. They did perform "Ovum" which is off the new album and can currently be heard on their myspace page. Daath was just signed to
Roadrunner
and will be releasing a new album on March 20 called
The Hinderers
.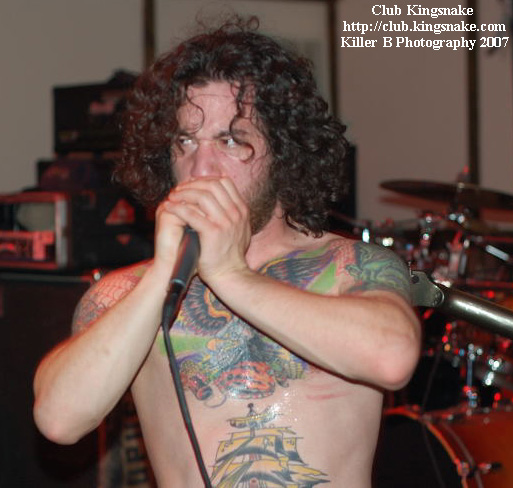 Adam Frappolli of Psyopus at the Old Orchard Inn
photo by staff photographer brian rampacek
See You Next Tuesday was up next and it seemed the first night on the road was a bit overwhelming. They had a lot of long breaks between the songs while trying to get things working right. The high vocals came off way too piercing and the low growls were too quiet to hear. I would be interested in hearing a recording and see if I can chalk this up to first night on the tour blues. They do have a new album coming out on
Ferret Records
in April. The single most entertaining thing was the singer got a kid running the stage through the whole performance. Back and forth. Was pretty darned amusing if you ask me.
To say Psyopus is different is an understatement. The best way I can describe them is free form death metal. At times they are perfectly in sync with each other, and at others, the band as a whole does something that can best be compared to jazz fusion. The guitarist has some excellent technical skills and some insane speed behind those fingers. The 20 minute set was not enough to really get a grasp on the complexity of their sound. In a world where genres are heavily defined and sub categorized, they are bucking the trend and doing something very different. I would like to have heard a bit longer set. Their new album,
Our Puzzling Encounters Considered
, is coming out on Metal Blade Records on February 20.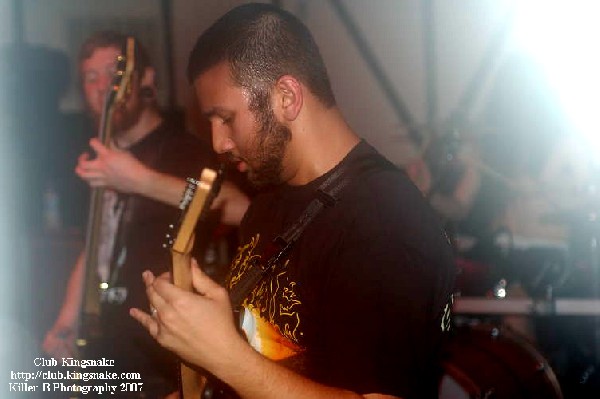 Ravi Bhadriraju of Job for a Cowboy at the Old Orchard Inn
photo by staff photographer brian rampacek
Job for a Cowboy was up next. I wasn't really expecting that tight of a performance, since they just hired on drummer John "The Charm" Rice in early January. I was a tad bit wrong. Sounding to me as though they came right off the album, JFAC was tight and ready to go. This is straight up clean death metal baby and it was lovely. I did regret once again how short the set was. Playing older songs from the
Doom
release such as "Knee Deep" along side new songs from their upcoming spring
Metal Blade
release, such as "Burying the Serpent's Lamp" and "Embedded," they are ready to move on to the next level. I fully expect to see them on one of the bigger tours this summer. I was definitely impressed with their solid performance. Once again I was sitting there wishing for a longer set.