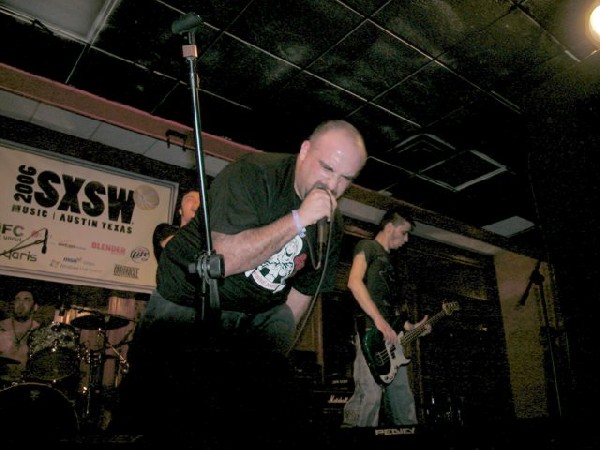 SXSW - Interactive, Film & Music Festival
Hometown: Austin, TX.
http://2007.sxsw.com/
SXSW 2006 Concert Photos
March 9-18, 2007
Couldn't make it to the CMJ Music Marathon in NYC this weekend? You can use the time to plan for this year's South by Southwest in Austin.
If you don't already have your hotel booked, you'd better haul ass. Of the listed hotels, ten have already sold out and the rest are headed that way fast. Before SXSW starts, bands will be sleeping in parks and underpasses, so if you want comfortable accommodations you had better move quickly.
Club.kingsnake has a suite at the show's headquarters hotel, the Austin Hilton downtown, for the whole show, and staff members attending at this point include Jeff Barringer, Christie Keith, and Clint Gilders. Besides picking up interesting web knowledge and ideas at the SXSWi interactive conference, we will also be providing coverage of a wide variety of events during the music portion.
We will also be handing out 3000 FREE club.kingsnake T-Shirts to launch our year-long celebration of kingsnake.com's tenth anniversary, and club.kingsnakes first birthday. We don't know where, we don't know when, but sometime during SXSW you should see them popping up. We will definitely post something about it here so our readers will get first shot. So if you see someone wearing one during the event IT'S PROBABLY NOT ME!
What can you expect if you go to SXSW?
People - lots and lots of people. Industry people and civilians will pack Austin's downtown area. Last year, if I had tried to skip a stone across the crowd on Austin's 6th Street, it would have bounced off of six A/R guys, two producers and a bass player before reaching the pavement or a civilian. At times 6th Street was so packed it was hard to move.
You can also expect to see bands, lots and lots and lots of bands - with around 1500 bands last year performing in SXSW showcases and almost an equal number bands at non-SXSW showcases, most for free.
If you're driving downtown you can also expect to see Austin's famous traffic congestion and limited to non-existent parking, especially the later in the day you get there. You can also get used to waiting in other lines as well, lines to register for bands or badges, lines to be seated at restaurants, lines to get into showcases, lines to buy drinks, lines for the bathrooms.
Badges Vs. Wristbands Vs. Commando
So you've decided to attend the concerts at SXSW, but you're not sure what you want to do to get in. Do you need to buy a badge? Wristband? Going to risk it and go "commando"? Your decision will dramatically impact where you can go and what you can see.
Going Commando
- While SXSW officially showcases around 1500 bands, estimates are that another 1000-1500 artists perform at unofficial showcases throughout that week. A few of these unofficial events are private parties, but most are not, and many of them are free. You could easily see just as many bands at non-SXSW events and not pay a dime in cover or ticket charges. Of course it's unlikely you'll see many of the "buzz" acts, but many big name performers do free shows, or inexpensive shows, as do untold numbers of smaller hungrier bands. Additionally many SXSW venues will sell individual tickets to non-SXSW badge or wristband holders, depending on the artist, the venue and how near it is to capacity. Take cash, prepare to wait in line to see "name" acts without guarantee, and just go for it. Heck, there are so many bands they have to play in parking lots and alleys.
Wristbands
- A SXSW wristband will get you into SXSW events without paying a cover. Its not a guarantee that you'll see who you want, or that you will get in if it's full, but it will get you in ahead of people going "commando". It's best described as an "all show" ticket. It will also not get you into any of the music industry symposiums or seminars.
Click here for info on wristbands.
Badges
- Ah - now you're talking. Badges make you feel like a king (or queen). Seriously. You NEED these stinking badges. Last year I got a massage, free beer, invites to lots of private events, and tons (three canvas tote bags FULL) of freebie promo swag. It also allowed me to essentially "cut" in line ahead of wristbanders and commandos, or when waiting in line, to get first access to availability at full venues. Badges do not come cheap. Right now a regular music badge that will get you into the concerts and all the music seminars will set you back $425. If you wait to the very last to register, the walkup rate when the event starts will be $600. If you want to participate in the internet seminars and the film festival as well, you'ill want the platinum badge, which costs $650 now but goes up to a whopping $950 when the event starts, but includes some perks such as access to the VIP Platinum Hospitality Lounge. I didn't see any VIPs in there, but I didn't lounge long either.
Click here for info on badges
Cameras
- The policy is no cameras withought a camera pass, but enforcement seems to vary greatly based on venues, camera type and size, the artists themselves, and frankly, sometimes who is working security at the door. Professional gear does require a SXSW issued photo pass or you're likely to get chucked out on your ear. I don't at this point know the process for obtaining one of these, but it needs to be done before the music events start or you won't get one.
Just who attends?
- Musicians, artists, politicos, and film and TV stars, and internet uber-geeks, at all levels of the industry, as well as thousands of locals and camp followers. Big names are always floating around in the crowds at SXSW, both at scheduled events and out just running around. Last year I had lunch with Owen Wilson, got to ask Henry Rollins a question during his interview, and spent time in the hallways chatting with Craig of Craig's List and Jimmy Wales of Wikipedia just throughout the "normal" course of my week. Music, film, internet, there is always someone buzzworthy just walking around.
Just who performs?
- Well, this list would be shorter if we listed the musicians that haven't performed at SXSW, so we will describe them in generalities, with only a limited amount of name dropping to keep it spicy. Historically, SXSW has a home for just about every genre of music, seeming to outdo itself in obscureness. Genres including Japanese metal, Brit punk, emo, heck, literally even Finnish folk music (with wooden clog dancing!) have had their music showcased at SXSW in the past. Who knows what '07 will bring? Last year brought The Pretenders, Echo and the Bunneymen, Aimee Mann and 1500 other bands. Past years have showcased Beck, Matisyahu, the White Stripes, and others. One thing to keep your ears open for - secret, unannounced showcases. Last year, with little or no announcement, secret showcases included The Beastie Boys, the Flaming Lips, Roseanne Cash, and Gang of Four.
Just where does everybody perform?
- With so many bands and so little time, virtually every club in the downtown entertainment district that can find a way to squeeze in a P.A. system becomes a SXSW venue. They even fence off vacant lots and parking lots, put up lights and generators and perform there. They also play over on Auditorium Shores. No joke, just about every where you go downtown you see bands
performing. And they play in some of Austin's classic music venues as well such as Antone's, La Zona Rosa,
Stubbs and Emo's. I think Emo's has as many as four stages going at once. One trip down the street can stock your closet with trendy Austin club t-shirts for eons.
How can my band showcase at SXSW?
- One of the great mysteries is how SXSW picks bands to showcase from the thousands of applications it gets every year. If you want to showcase at SXSW 07 you're almost too late, but there is always SXSW 08. For details on showcasing your band at SXSW see
http://2007.sxsw.com/music/showcase/
.
What the hell is club.kingsnake going to do at SXSW 07?
- Well, lots and lots of photos and concert reviews for sure, and handing out lots of those free trendy black club.kingsnake t-shirts as well. Really, we'll be doing a lot of networking, trying to set up interviews, establishing industry connections, and checking out a whole bunch of interesting new technologies to use here on the site. We'll also be doing a lot of pre-SXSW coverage, so if your band gets selected to showcase at SXSW 07, let us know, and we can give our readers a preview of what they can expect.
I hope this gets people thinking about it early, because this is one event where if you snooze, you definitely lose.
See you at SXSW in March!
Technorati tags:
SXSW,Austin, Free T-Shirt