---
Thursday, May 02, 2013




by Jeff Barringer - Staff Photographer

Jeff Hanneman, guitarist, lyricist, and one of the founding members of the legendary and influential thrash-metal band Slayer, has passed away at 49 from liver failure, according to a press release from the bands management.

Hanneman, who has not performed with the Slayer since 2011 while he recovered from necrotizing fasciitis from a spider bite, was instrumental in writing many of the bands more well known songs, and was know for his interest in military history, which caused controversy with some of the bands lyrics. When I last met Jeff, during the recording of the World Painted Blood album in Los Angeles in 2009, we spoke at length about his interests, and I gave him some history books to read on the 2010 tour.

Jeff is survived by his wife of 16 years Kathy, two brothers, Michael and Larry and sister Kathy. Funeral arrangements are pending.


Click here for more photos of Slayer
.
---
Thursday, Apr 18, 2013




by Jeff Barringer - Staff Photographer

According to a statement posted on the Austin American Statesman web site, legendary Texas entertainer Willie Nelson has changed his scheduled concert at The Backyard April 28, just outside Austin in Bee Cave, into a fundraiser for the West Volunteer Fire Department, devastated by Wednesday's explosion.

"West is just a few miles from my hometown of Abbott," Nelson said in a statement. "I was born and raised here and it was my backyard growing up. This is my community. These friends and neighbors have always been and are still a part of my life. My heart is praying for the community that we call home."

Willie Nelson had previously been scheduled to perform with family members Paula Nelson and Lucas Nelson, but as a fundraiser I would expect additions to the lineup from a variety of Austin and Texas based artists, as well as friends of Willie and the Nelson family. It wouldn't be surprising to see Billy Gibbons and the rest of ZZ Top, Lyle Lovett or any number of other Texas artists end up on the schedule as Texas pulls together to help it's own.

For tickets and more info please visit http://www.willienelson.com

UPDATE: 04/19/2013 - "The State Firemen's and Fire Marshals' Association said Friday morning that it believes 11 firefighters died in the explosion, including four who were emergency medical service personnel."

http://www.statesman.com/news/news/crime-law/official-12-confirmed-dead-200-injured-in-west/nXQ9J/

Click here for more photos of Willie Nelson.



.
---
Sunday, Nov 11, 2012
by Jeff Barringer - Staff Photographer

Adam Duritz and David Bryson's Counting Crows dropped into Austin's Stubb's BarBQ to play to a sold out and enthusiastic house last night, opening with crowd favorite "Round Here".

Rounding out a fall tour that ends in Anaheim Nov. 25th the band has just one more Texas stop, Houston on Monday, before they head west. For a list of their remaining tour dates check their web site at http://www.CountingCrows.com.

Click here for more photos of Counting Crows.
.
---
Saturday, Sep 01, 2012




Photos and review by Jess Watt - Staff Photographer club.kingsnake.com


Steel Panther - Sound Academy - Toronto - Aug 9th, 2012

"Going to a Steel Panther show is like going back to high school in the late 1980s: Big hair, tight pants, make up, glitter, and a lot of cock.
If this doesn't sound like your high school, Steel Panther gives you the chance to experience it whether it be your first time or tenth time.
The foursome, straight off Sunset Blvd know how to both rock it and give many many many laughs along the way. You can't help but laugh along with them and their songs like, " "Asian Hooker", "Fat Girl", "Eatin' Ain't Cheatin" and "Gold Digging Whore."
If you missed the glam rock era, Steel Panther is your chance to go back in time, cheesy guitar solos and everything.
Check out their weekly shows in both Las Vegas and LA"



Click here to check out the rest of the Steel Panther photos byJess Watt - Staff Photographer





.
---
Saturday, Sep 01, 2012
| | |
| --- | --- |
| by Jess Watt - Staff Photographer | |

.
---
Wednesday, May 02, 2012
by Jeff Barringer - Staff Writer

Lee Rocker, who along with "Slim" Jim Phantom, and Brian Setzer and their band The Stray Cats breathed life back into the rockabilly scene in the early 80s, will be bringing his own band to Austin as one of the headliners for Memorial Weekend's Revival Festival in downtown Austin.

I had a chance to catch up with Lee and talk about the Revival Fest, some of his influences, and what it was like to be an emerging artist in the music scene in the UK during such an important time.

Click on the link below to listen. http://club.kingsnake.com/mp3/leerocker.mp3

This years revival fest features Reverend Horton Heat, Nekromantix, Lee Rocker, Three Bad Jacks, Psycho Devilles, The Smites (Tribute to The Smiths), Rosie Flores, Holy Moly!, Johnny Hootrock, and the Hot Rod Hillbillies. It is Saturday, May 26th, Memorial Weekend 7th St & Trinity Ave, Austin TX 78701, located in the heart of Downtown Austin. For tickets and more info see http://revivalfest.com/
.
---
Friday, Apr 20, 2012
by Jeff Barringer - Staff Photographer

I don't quite know what to make of American Idol runner-up James Durbin. Opening for Evanescence was a good spot for him to get some seasoning, and he has a strong band behind him. But he definitely needs to put some miles on his show.

James Durbin and his band will be touring the states all May. To check out his tour schedule see his site athttp://durbinrock.com

Click here for more photos of James Durbin.
.
---
Wednesday, Apr 18, 2012
by Jeff Barringer - Staff Photographer

Amy Lee and the current rev of Evanescense stopped at Austin's Stubb's BarBQ to play to a sold out crowd a few days before she is set to play the Johnny Cash tribute at ACL Live as one of the feature performers.

The band delivered a solid show to an audience that varied greatly in age, with a large number of pre-teen girls dragging parents around in tow. Mixing hits from their monster debut studio album Fallen with songs from 2006's The Open Door and last years self-titled release Evanescense they had a robust set list to work from.

Evanescense will spend the summer touring overseas - too see where they are now go to http://www.evanescence.com.

Click here for more photos of Evanescense.
.
---
---
Search

---
Video Gallery


Interview with Mower



---
Photo Gallery


Click Here to Post!!!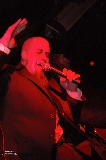 9mm Solution; Heartbreakers Gentlem...
---
Concert Reviews
---
Photo Spreads
---
Tour News
---
Podcasts
---
Sponsors


---