---
Search
---
From The Artists Catalog
---
Band-opedia

[ Back | Home | Login ]



"Kansas"
Kansas (band). (2009, January 18). In Wikipedia, The Free Encyclopedia. Retrieved 20:02, January 20, 2009, from http://en.wikipedia.org/w/index.php?title=Kansas_(band)&oldid=264950021
Kansas is an American progressive rock band which became a popular arena rock group in the 1970s, with hit singles such as "Carry On Wayward Son" and "Dust in the Wind". They have remained a classic rock radio staple and a popular touring act in North America and Europe.
Dave Hope (bass), Phil Ehart (drums, percussion), and Kerry Livgren (guitars, keyboards, synthesizers) formed a progressive rock group named Kansas in 1970 in their hometown of Topeka, Kansas, along with vocalist Lynn Meredith from Manhattan, Kansas, keyboardist Don Montre, keyboardist Dan Wright, and saxophonist Larry Baker.
A year earlier, Meredith, Montre, Wright and Livgren were performing in a band called The Reasons Why. After changing the band's name to Saratoga, they started playing Livgren's original material with Scott Kessler playing bass and Zeke Lowe on drums. In 1970, they changed the band's name again to Kansas and merged with members of a rival Topeka progressive outfit White Clover. This early Kansas group, which lasted until 1971 when Ehart and Hope and some of the others left to reform White Clover, is sometimes referred to as Kansas I.
Ehart was replaced by Zeke Lowe and later Brad Schulz, Hope was replaced by Rod Mikinski on bass, and Baker was replaced by John Bolton on saxophone and flute. In 1972, after Ehart returned from England(where he'd gone to look for other musicians), he and Hope once again reformed White Clover with Robby Steinhardt (vocals, violin, viola, cello), Steve Walsh (vocals, keyboards, synthesizers, percussion) and Rich Williams (guitars). In 1973 they recruited Livgren from the second Kansas group, which then folded.[1] Eventually, they received a record deal with Don Kirshner's eponymous label, and decided to adopt the Kansas name. In early 1974 they recorded their first album.
The debut album, Kansas (#174), which was released in March 1974, showcased Kansas' signature mix of guitars, keyboards, vocals, and Steinhardt's violin style, which merged American-style boogie-rock with complex, symphonic arrangements and changing time signatures. Their sound bore the marks of late-1960s, early 1970s progressive rock, such as Genesis and Emerson, Lake, and Palmer. Promotion by Kirshner and touring behind the debut album and its two follow ups, Song for America (#57) and Masque (#70), increased awareness of Kansas.
On the strength of their 1977 hit single "Carry On Wayward Son" (#11) the band's fourth album, Leftoverture (#5), released in October 1976, on which Steinhardt added viola and Walsh added vibraphone to their work, was a hit which garnered a lot of airplay on the burgeoning AOR radio format. The follow up Point of Know Return (#4), released in October 1977, featured the title track (#28) and "Dust in the Wind" (#6), both hit singles.
Both albums had unique album covers, with Leftoverture featuring a DaVinci-like old man on the cover, and Point of Know Return depicting a ship teetering over the edge of the world. Both albums have sold over 4 million copies in the U.S. alone. Both "Carry On Wayward Son" and "Dust in the Wind" were certified Gold singles, selling over one million units each.
During this period, Kansas became a major headlining act for several years, selling out the largest venues available to rock bands at the time (e.g., New York City's Madison Square Garden). The band documented this era with its first live recording, 1978's double live album Two For The Show, a snapshot of various performances from the 1977 and 1978 tours supporting Point Of Know Return.
Kansas self-produced their follow-up to Point Of Know Return. The 1979 album Monolith (#10) featured lyrics influenced by The Urantia Book and Native American themes. "Kansas" itself is a toponym derived from the Kansa tribe, whose name is widely believed to mean "People of the South Wind."[2] The starkly expressive album cover depicts Plains Indians in traditional dress and space suit helmets living in a settlement under the ruins of highway overpasses. While the album produced a Top 40 single in "People of the South Wind" (#23), both the band and the label were disappointed in Monolith's failure to produce sales or radio airplay close to its two predecessors. Nevertheless, the album went Platinum and the Platinum record hangs in the Kansas State Historical Society.[3]
Kansas' band members began to drift apart in the early 1980s. Kerry Livgren became a born-again Christian, and this was reflected in his lyrics on the next three albums, beginning with Audio-Visions (#26), and especially on the Top 40 single ("Hold On") released from that album. Dave Hope soon converted to Christianity as well. Walsh left in October 1981 to form a new band, Streets. In early 1982 Walsh was replaced by vocalist/keyboardist/guitarist John Elefante , also a born-again Christian, who along with his brother Dino, later became known for producing albums for Christian rock bands including Sweet Comfort Band, Petra, Bride, Rick Cua, and Guardian.
Kansas' first album with Elefante, Vinyl Confessions (#16), released in 1982, was their most successful studio release since Point of Know Return. The record renewed interest in the group and generated the band's first top twenty hit in several years with "Play the Game Tonight" (#17). The album's overtly Christian lyrics attracted an entirely new audience of evangelical Christians, who used lyrics from the record in religious tracts handed out after Kansas concerts. However, sales of the album fell just shy of gold status, and to this day the album has not been certified gold, unlike all of the band's prior releases.
By 1983, Kansas had scheduled time to record their next album, but Robby Steinhardt failed to show up to record the album. Kerry Livgren was holding back some of the more Christian content for his second solo album. Kansas' next release Drastic Measures (#41) was written mostly by the Elefante brothers, with just three tracks from Livgren. The change in musical direction was closer to the sound of 1980s bands Loverboy or Foreigner than Kansas' earlier work. In fact, the first single from the album, Elefante's "Fight Fire With Fire," had a synthesizer/guitar-driven hard-rock sound similar to Loverboy. The single didn't crack the Top 40 on the Pop Charts, but reached #3 on the then recently created Billboard Mainstream Rock Chart, making the highest chart position of any Kansas release on any chart.
Livgren had always felt that he wanted the music industry to produce more commercially viable material, and ironically such attempts always led to commercial failure, while their most successful material was never intended as hits. But the band's new direction did seem more commercially directed on Drastic Measures, and this was reflected in the lyrics of "Mainstream", which was a criticism of the dominant mindset within the music industry, which ironically the very album it was on was coming closer to reflecting.
During the Elefante years, Livgren and Hope had been feeling more distant with the rest of the band, and Livgren was becoming increasingly uncomfortable with Kansas representing his Christian worldview. After a final New Year's Eve performance on December 31, 1983, Livgren and Hope left to form AD with former Bloodrock member Warren Ham(who had toured with Kansas playing sax, harmonica and keyboards and singing backups in 1982) and Michael Gleason, who had appeared with Kansas as a keyboardist and backup vocalist in 1983(Another musician, Terry Brock, was also along as backup singer on their 1983 tour). They were joined by drummer Dennis Holt. Elefante, Ehart, and Williams sought to continue, as demonstrated by their recording of one more song ("Perfect Lover") which would appear on 1984's retrospective The Best of Kansas, but that was the last effort by the band with Elefante, whose main attraction to the band had been Livgren, and Kansas came to an end that year. In recent years, Elefante has become a popular contemporary Christian music singer and has never again performed with Kansas in any of its reconstituted lineups.
In 1985, the band came back together with Walsh but without Livgren, Hope or Steinhardt. The new line-up included bassist Billy Greer (whom Walsh had worked with in Streets), guitarist Steve Morse (formerly of the Dixie Dregs, who has since gone on to rejoin that band and has been a member of Deep Purple since 1996) and, notably, no violin player (though in concert, Morse would perform the solo on "Dust in the Wind" on a violin). The reconstituted band released Power in October 1986. "All I Wanted," from Power became the last Kansas single to hit the Billboard Magazine Top 40 charts. 1988 saw the release of this line-up's second album, In the Spirit of Things, a favorite of several band members but a commercial failure. Morse left the band in 1989 at the end of this tour. The band made promotional videos for a number of songs during this era, several of which received regular play on MTV.
In 1990, a German promoter arranged to reunite all the original members of Kansas III, except Steinhardt, for a European tour. Greer joined them, along with keyboardist Greg Robert, who had first joined Kansas on tour in 1986. At the end of the tour, Hope left again but Livgren remained on into 1991, which also saw the return of the violin, but this time in the hands of David Ragsdale. Livgren left during the 1991 tour, to be replaced temporarily by Steve Morse again. After the tour, Morse left and Ragsdale took over the extra guitar parts, leaving Rich Williams as the primary guitar player. The resulting lineup of Ehart, Greer, Ragsdale, Robert, Walsh, Williams lasted from 1991 through 1997. This period saw one live album and videocassette, Live at the Whisky, in 1992, and the 1995 Freaks of Nature. On July 28 1996, Kansas was inducted into the RockWalk of Fame in Hollywood.
In early 1997, Robert and Ragsdale left the band, and Robby Steinhardt returned. The following year they recorded Always Never the Same with the London Symphony Orchestra as a sixth band member, which was composed and arranged by Larry Baird, featuring mostly older songs alongside a few new ones and one cover (Eleanor Rigby by The Beatles). Kansas has continued to tour, but the band has never been able to regain mass popularity or critical notice despite the media attention generated in 2000 by the reunion album Somewhere to Elsewhere, an album that featured all original members of Kansas, plus Greer, with all songs written by Livgren. The album sold well on the Internet when it was first released, charting at Number 13 on the Billboard Internet album chart its first week.
In 2000 Kansas toured as opening act support of Yes during their "Masterworks" tour. In 2002, Kansas II, the Kansas group before the band that recorded the first album, released an album of demos and live material they had recorded from 1971-1973. For legal reasons and a desire not to ride on the success of Kansas III, they decided to use the name Proto-Kaw. This led to a new album by most of the Kansas II members called Before Became After in 2004 and simultaneous tours by both Kansas groups. Proto-Kaw released a third album in 2006, entitled The Wait of Glory.
Kansas continued to tour annually. In 2006 a tour was delayed for a few weeks in connection with the announcement that original violinist and secondary lead singer Robby Steinhardt had left the band.[4] He had originally left in 1983 but returned in 1997. Robby was a central part of the band's live shows, acting as the emcee during both tenures with the band. David Ragsdale subsequently returned to the lineup on violin and guitar. In 2008, as announced on the Kansas website, four of the five members of the current Kansas lineup (Phil Ehart, David Ragsdale, Richard Williams and Billy Greer) have formed a recording project entitled Native Window. The lineup (featuring Greer on lead vocals) is intent on recording an album throughout Summer 2008.
With classic rock continuing to be a strong genre of music, Kansas's influence has continued to inspire bands. "Carry On Wayward Son" has been covered by bands such as Rachel Rachel, Critical Mass, Dream Theater, The Showdown, Yngwie J. Malmsteen, and even country superstars The Oak Ridge Boys. The song has appeared on album soundtracks for the movies Heroes and Anchorman, and being played during a scene in the Adam Sandler film Happy Gilmore. (where it is featured as the ending credits song). "Carry On Wayward Son" is also featured in Guitar Hero II and Rock Band 2. Most recently the song was featured in an episode of the popular animated TV series South Park. It has also been played on the hit tv series Supernatural (TV series). Kansas is mentioned as one of Dean Winchester's favorites; as well as a "major influence" in the liner notes of an early album of the top-selling Country artist of all time, Garth Brooks.
Progressive metal band Vanden Plas has covered Kansas, making a somewhat heavier cover of "Point of Know Return." The band's biggest single, "Dust in the Wind," was used in a Subaru commercial, and in the film Old School. It was also prominently featured in several episodes of the television series Highlander, and was referenced in the film Bill and Ted's Excellent Adventure.
The single was certified Gold as a digital download by the RIAA in 2005, almost 30 years after it sold 1 million copies as a single. "Dust in the Wind" has been covered by Sarah Brightman, the German rock band Scorpions (during their 2001 acoustic album Acoustica), Christian artists Billy Smiley and Acappella and by former New York Yankees center fielder and aspiring jazz guitarist Bernie Williams on his 2004 debut album The Journey Within. In 2006, ex-Kansas lead singer John Elefante also covered "Dust in the Wind" as a single.
Official sites
Additional information
Kansas (band). (2009, January 18). In Wikipedia, The Free Encyclopedia. Retrieved 20:02, January 20, 2009, from http://en.wikipedia.org/w/index.php?title=Kansas_(band)&oldid=264950021
This article has been read 2097 times.
[ Back | Top | Home | Login ]
---
Search

---
Video Gallery


The Meat Puppets - Look At The Rain



---
Photo Gallery


Click Here to Post!!!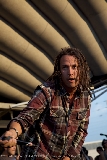 Vans Warped Tour
---
Concert Reviews
---
Photo Spreads
---
Tour News
---
Podcasts
---
Sponsors


---