---
Search
---
From The Artists Catalog
---
Band-opedia

[ Back | Home | Login ]



"Stone Temple Pilots"
Stone Temple Pilots. (2009, January 16). In Wikipedia, The Free Encyclopedia. Retrieved 20:07, January 20, 2009, from http://en.wikipedia.org/w/index.php?title=Stone_Temple_Pilots&oldid=264491096
Stone Temple Pilots (commonly referred to as "STP") is a Grammy Award-winning American hard rock band consisting of Scott Weiland (lead vocals), brothers Robert (bass guitar, vocals) and Dean DeLeo (guitar), and Eric Kretz (drums, percussion).[1] The band found immediate success with the release of their debut album Core in 1992, which was certified 8Ã - platinum by the RIAA. Despite high sales, the album received negative reviews from critics who thought of the band as "grunge rip-offs". Throughout their career, STP became one of the most popular rock bands of the 1990s, but were plagued with problems stemming from Weiland's drug addiction and run-ins with the law.
In 2003, the band released the greatest hits compilation Thank You. Around this time, band members began going their separate ways. After the band's break-up in 2003, Weiland became the frontman of Velvet Revolver with former members of Guns N' Roses. The DeLeo brothers formed the band Army of Anyone with Richard Patrick of the band Filter. Kretz founded Bomb Shelter Studios in Los Angeles. [2] The band reunited in 2008 after Weiland split from Velvet Revolver, kicking off the tour at the Rock on the Range festival in Columbus, Ohio and wrapped up on October 31, 2008 in Birmingham, Alabama. The band has already crafted new material and will begin recording a new album sometime this year.
The band's five studio albums have sold over 17 million copies in the United States alone and nearly 40 million albums worldwide.[3] The band has had fifteen top ten singles on the Billboard rock charts, including six number ones, and one number one album on the pop charts (1994's Purple). In 1993, the band won a Grammy for "Best Hard Rock Performance" for their song "Plush". Stone Temple Pilots were also ranked at number 40 on VH1's The 100 Greatest Artists of Hard Rock.[4]
Stone Temple Pilots can trace its beginnings to a Black Flag concert in Long Beach in 1986, where Scott Weiland met Robert DeLeo. They both dated the same woman, and bonded through the situation. When the girl left town, Weiland and DeLeo moved into her vacated apartment. Immediately, Weiland and DeLeo formed a band with two of Scott's friends from Edison High School, Corey Hicock (guitar) and David Allen (drums).[5] After Allen's departure, drummer Eric Kretz joined the band. Soon after, Robert DeLeo's brother, Dean DeLeo, decided to play guitar in the band replacing Hicock, completing the quartet. They then named their band Mighty Joe Young. The band recorded a demo tape that was completed around 1990.[2]
The group then began to work on their debut album with Brendan O'Brien. During the recording, they received a call from their lawyer who informed them that there was a blues man who had already claimed the name Mighty Joe Young. They changed the band's name to Shirley Temple's Pussy and performed under this name for a short time, but then changed the name again due to record label pressure.[6] They liked the initials STP and eventually settled on the name Stone Temple Pilots in 1992, towards the end of the Core sessions.[dubious "" discuss]
Stone Temple Pilots built a fan base in San Diego clubs in order to steer clear of the Los Angeles corporate music scene and build up their technique and following in the clubs. In 1992, Stone Temple Pilots signed with Atlantic Records. Their first album, Core, was released in September 1992, producing a plethora of big hits including "Sex Type Thing", "Plush", "Wicked Garden", "Creep", and "Dead & Bloated."
In spite of often hostile reviews from critics[citation needed], Stone Temple Pilots continued to gain fans. Bringing their music to the people, they toured for four weeks, opening for Rage Against the Machine, and then played a forty-date tour supporting the heavy metal band Megadeth. 1993 brought continued success on the road, with the band headlining a two-and-a-half-month American tour. Around this time, Stone Temple Pilots also performed at benefits for pro-choice organizations.
Also in 1993, the band filmed an episode of MTV Unplugged, where they debuted the song "Big Empty."
Despite commercial success, the music press criticized the band as grunge imitators.[7] Jon Pareles of The New York Times wrote in a 1993 concert review, "The San Diego band has climbed onto the Seattle grunge bandwagon. Its slow songs, with heaving riffs and half-speed vocals, are second-rate Pearl Jam; for variety, there are some midtempo groans that imitate Nirvana."[8] Weiland told Entertainment Weekly in 2008, "It was really painful in the beginning because I just assumed that the critics would understand where we were coming from, that these just weren't dumb rock songs." In a January 1994 Rolling Stone poll, the band was simultaneously voted Best New Band by Rolling Stone's readers and Worst New Band by the magazine's music critics.[7] The following month the group won Favorite Pop/Rock New Artist and Heavy Metal/Hard Rock New Artist at the American Music Awards. In March 1994, the group won a Grammy Award for Best Hard Rock Performance for the song "Plush."[9]
In the spring of 1994, Stone Temple Pilots returned to the studio to work on their second album, Purple. Completed in less than a month, Purple debuted at number one in the United States upon its release in June 1994. The radio-friendly "Interstate Love Song" quickly became a big hit, spending a record-setting fifteen weeks atop the album rock tracks chart. Other hits from the album included "Vasoline" and "Big Empty" (the latter also being featured on the soundtrack to the film The Crow). By October, just four months after its release, Purple had sold three million copies.
Although the band's success continued into 1995, it would not be a good year for the band. Two weeks of recording session work had to be scrapped in February, and in May, Weiland was arrested for possession of heroin and cocaine in Pasadena, California, when police found the illegal drugs in his wallet. Facing up to three years in prison, Weiland pled not guilty, and a trial date was set the next year.
Following Weiland's arrest, the Pilots separated. Weiland formed a temporary side unit called the Magnificent Bastards, which contributed a song to the movie soundtrack of Tank Girl and a cover song to a John Lennon tribute album. By October 1995, however, the band regrouped with Weiland to begin recording its third album.
Stone Temple Pilots released their third album, Tiny Music... Songs from the Vatican Gift Shop, in April 1996. Fans again showed their support of the band when the album debuted at number four on the U.S. charts. Critical reception, however, was mostly negative. David Browne of Entertainment Weekly wrote: "None of it ... has a distinct personality." Rolling Stone was surprised at "the clattering, upbeat character of the music" given Weiland's much-publicized run-ins with drugs and the law, and featured Stone Temple Pilots on the cover of issue #753 in February 1997.[10]
However, Weiland's drug addiction again became a serious obstacle to the band's success. The band was unsuccessful in being able to fully tour in support of Tiny Music.... A short tour in the fall of 1996 ensued in the U.S. but final dates at the end of December in Hawaii had to be cancelled. The band issued a statement saying that: "[Weiland] has become unable to rehearse or appear for these shows due to his dependency on drugs. He is currently under a doctor's care in a medical facility."
Weiland's entry into a drug rehabilitation program was not voluntary. In April 1996, he was ordered by a Pasadena judge to spend up to six months under 24/7 medical supervision. After Weiland completed five months in a drug treatment program, the charges of cocaine and heroin possession were dropped in October 1996. Weiland's 1996 stay in a rehabilitation center proved unsuccessful and in January 1997 he checked himself into another drug treatment center. This resulted in another canceled tour.
In September 1997, while Stone Temple Pilots were on hiatus, Weiland began recording a solo album, 12 Bar Blues, which was released in March 1998. While Scott worked on and promoted his solo album, the remaining members of Stone Temple Pilots formed the short-lived band Talk Show, with former Ten Inch Men singer Dave Coutts. Neither release did well commercially, but both received some critical acclaim.
Stone Temple Pilots soon reunited, releasing No.4 in 1999. Singles released from the album included "Down" and "No Way Out", but they scored one of their biggest hits since the success of Core and Purple with the single "Sour Girl". "Sour Girl" was inspired by Weiland's failing relationship with his then wife, and peaked at number 78 on the Billboard Hot 100, thus becoming the band's most successful single to date. The popular music video for "Sour Girl" featured actress Sarah Michelle Gellar. Shortly after No.4's completion, Weiland was sentenced to a year in a Los Angeles county jail for violating probation.
During the summer of 2001, the band released their fifth album, Shangri-La Dee Da, which produced two modest rock radio hits: "Days of the Week" and "Hollywood Bitch". The band began work on a sixth studio album in 2002 that reportedly would go back to their Core-era sound and planned on finishing it in January 2003, but when Dean DeLeo and Scott Weiland nearly got into a fistfight during the last show of STP's fall 2002 tour[11], it marked the end of Stone Temple Pilots. On November 11, 2003, Atlantic Records released a greatest hits album, Thank You, with a bonus DVD. The compilation included a previously unreleased single called "All in the Suit That You Wear". The bonus DVD included an acoustic performance of "Plush" filmed in 1992 on MTV's Headbanger's Ball. This version of "Plush" is widely considered one of Scott Weiland's greatest vocal performances.
Stone Temple Pilots broke up in 2003. The DeLeo brothers' most recent side project, Army of Anyone, released its debut album on November 14, 2006. It features Ray Luzier, a session drummer, and Richard Patrick of the industrial rock band Filter. Army of Anyone went on "indefinite hiatus" in May 2007 after Richard Patrick announced he was working on a new Filter album, meaning that Army of Anyone was finished. Weiland joined the successful supergroup Velvet Revolver along with former Wasted Youth guitarist Dave Kushner, and former Guns N' Roses members Slash, Matt Sorum, and Duff McKagan. The band released two albums, Contraband (2004) and Libertad (2007).
According to Dean DeLeo, steps toward a Stone Temple Pilots reunion started with a simple phone call from Weiland's wife, Mary Forsberg. She invited the DeLeo brothers to play at a private beach party, which led to the reconciliation of Weiland and the DeLeo brothers.[3] In 2007 Dean DeLeo discussed with Weiland an offer from a concert promoter to headline several summer festivals. Weiland accepted and said he had cleared the brief tour with his Velvet Revolver bandmates. He explained, "everything was cool. Then it wasn't", and stated that the rest of the band stopped talking to him. As a result, Weiland announced in the middle of a Velvet Revolver show on March 21, 2008 that it would be his last tour with the group.[7] The following month the members of Stone Temple Pilots announced they were reuniting for a 65-date tour of North America. During one of these shows, Weiland gave hint of a possible upcoming album, stating that he had "lots of new songs in his head".[12] Prior to tour's start, Weiland was ordered by a court to serve an eight-day jail sentence stemming from charges the previous year for driving while intoxicated.[13]
In June 2008, Atlantic Records filed a lawsuit against Weiland and Kretz for trying to end their contract to the label early (the DeLeo brothers had been released from their contract in late 2003). While the band has fulfilled its six-album obligation to the label, Atlantic stated in its suit that it wants Stone Temple Pilots to record another album, in addition to two more albums if the label decides to release the records.[14] Stone Temple Pilots headlined the 10th annual Voodoo Experience in New Orleans the weekend before Halloween 2008. This marked one of their biggest and most successful performances since reforming earlier in the year. STP's six month reunion tour wrapped up on October 31, 2008 in Pelham, Alabama.
Scott Weiland released his second solo album, "Happy" in Galoshes, on November 25 and is currently on his first solo tour since 1998.[15]
On October 22, it was reported that Weiland told The Pulse of Radio he's uncertain where STP's future lies. "I don't know where things are gonna go with STP", he said. "It was sad to find out that we're still in some way locked in a contract with Atlantic Records, which is a travesty, actually. If it ends up being that we have to, you know, make a certain amount of records for Atlantic in order to be free, then I don't know if I have that in me."[3]
Weiland then said during an interview on October 30 with WBCN that STP has written a "boat load of new songs" during the reunion tour indicating that a new album could be on the horizon in 2009 following his solo tour. [4]
The compilation album Buy This was released on November 27, 2008, exclusively through Best Buy.
STP played at the nineteenth annual KROQ Almost Acoustic Christmas on December 13, 2008. The band played a New Year's Eve Show in Los Angeles on December 31 as well as a show in Las Vegas on January 2, 2009.
On December 19, Weiland signed a publishing deal with Bug Music, allowing Weiland to "receive funding to pursue the development of creative projects and writers for Bug Music through his co-founded label, Softdrive Records." The deal includes Weiland's share of the Stone Temple Pilots catalog and future solo projects.[5]
The band's sound is considered a blending of modern alternative rock and hard rock of the 1970s, creating a form of arena rock.[16] Later albums would include some psychedelic rock and pop elements. Dean DeLeo's trademark guitar sound is considered to be "crunchy" and especially distorted. DeLeo's playing has received critical acclaim, as STP's second album, Purple, was ranked number 73 on Guitar World magazine's list of the 100 greatest guitar albums of all time.[17] STP has covered several popular classic rock artists live and in the studio, such as The Beatles, Led Zeppelin, Kiss, The Doors, Pink Floyd, and David Bowie, among others.
Though critics claimed Weiland's vocal style to be similar to that of Eddie Vedder and Layne Staley, Weiland has said his vocal style is inspired by Jim Morrison of the Doors, and has also cited David Bowie as a major influence.[18]
While a hard rock band, the band has incorporated a vast amount of musical styles throughout their career, which includes, alternative rock, psychedelic rock, pop rock, jangle pop, and funk rock. Guitarist Dean DeLeo utilizes heavily layered and distorted guitaring, and bassist Robert DeLeo draws influences from genres such as rhythm and blues, lounge music, and ragtime. Singer Scott Weiland is the band's primary lyricist.
To celebrate Stone Temple Pilots' 2008 reunion tour, Versailles Records is currently working on Wicked Garden: A Millennium Tribute to Stone Temple Pilots, tentatively due out in stores in the early spring of 2009. In addition to a number of name hard rock and alt-rock/grunge-era artists, the collection will feature a handful of up-and-coming millennium rock bands, such as Kung-Fu Grip, who have recorded the STP track "Tumble in the Rough" for the album.
Stone Temple Pilots. (2009, January 16). In Wikipedia, The Free Encyclopedia. Retrieved 20:07, January 20, 2009, from http://en.wikipedia.org/w/index.php?title=Stone_Temple_Pilots&oldid=264491096
This article has been read 1913 times.
[ Back | Top | Home | Login ]
---
Search

---
Video Gallery


Protest The Hero - Nautical



---
Photo Gallery


Click Here to Post!!!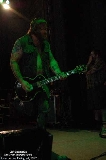 Every Time I Die; Sounds of the Und...
---
Concert Reviews
---
Photo Spreads
---
Tour News
---
Podcasts
---
Sponsors


---