---
Search
---
From The Artists Catalog
---
Band-opedia

[ Back | Home | Login ]



"Budgie"
Budgie (band). (2009, January 20). In Wikipedia, The Free Encyclopedia. Retrieved 17:51, January 21, 2009, from http://en.wikipedia.org/w/index.php?title=Budgie_(band)&oldid=265327397
Budgie are a Welsh rock band from Cardiff, South Glamorgan. They are widely considered as one of the first heavy metal bands and a seminal influence to many acts of that scene,[1] with fast, heavy rock (an influence on the New Wave of British Heavy Metal (NWOBHM) and even such acts as Metallica) being played as early as 1971[2], preceding other influential bands such as Judas Priest. Notable Budgie songs include "Breadfan", "Crash Course In Brain Surgery" and "Napoleon Bona - Parts 1 & 2".
Budgie formed in 1967 in Cardiff, Wales under the name Hills Contemporary Grass. Their original line-up consisted of Burke Shelley (b. John Burke Shelley, 10 April 1947, Tiger Bay, Cardiff, South Glamorgan, Wales) on vocals and bass, Tony Bourge (b. Anthony James Bourge, 24 November 1948, Tiger Bay, Cardiff, South Glamorgan, South Wales) on guitar and vocals, and Ray Phillips (b. Raymond John Phillips, 1 March 1949, Tiger Bay, Cardiff, South Glamorgan, South Wales) on drums.[3] After performing several gigs in 1968, the band changed their name to Budgie the following year and recorded their first demo then.[1]
Their debut album in strong blues oriented hard rock lines was recorded at Rockfield Studios with Black Sabbath producer Rodger Bain and released in 1971, followed by Squawk in 1972. The 3rd album, Never Turn Your Back On a Friend (1973), ensured their place in rock and roll history, containing possibly their best-known song, "Breadfan", later covered by Metallica. (Metallica also covered another Budgie song, "Crash Course In Brain Surgery"). Ray Philips left the band before the fourth album In for the Kill was recorded and was replaced by Pete Boot (b. Peter Charles Boot, 30 September 1950, West Bromwich, Staffordshire).
In late 1974, the band were joined by drummer Steve Williams for the album Bandolier, but Bourge left mid 1978 and finally was replaced by "Big" John Thomas (b. 21 February 1952) in late 1979. Music from the 1978 LP Impeckable was featured in the 1979 film J-Men Forever (shown frequently on the USA Network's "Night Flight" television series in the 1980s) which is now a cult classic.
The band continued to have success during the New Wave of British Heavy Metal scene until 1982, even headlining the Reading Festival that year (a year before they played there a main show with headliner Whitesnake). They built a particular following in Poland,[citation needed] where they played as the first heavy metal band behind the Iron Curtain in 1982. Also notable was their tour support of Ozzy Osbourne in 1984.
The band stopped gigging in 1988, members went into studio production, occasionally guesting on other projects; Thomas most notably worked on the Phenomena CD with Glenn Hughes out of the Black Sabbath studios. Thomas left the band in 2001 after headlining the "Welsh Legends Of Rock" outdoor festival.
Enjoying much popularity in Texas, somewhat thanks to legendary promoter DJ and restaurateur, Joe "The Godfather" or "Mr. Pizza" Anthony on KMAC/KISS radio in the 1970s, the band reformed for one-off gigs in 1995, 1996 and 2000 for outdoor festivals 'La Semana Alegre' in San Antonio, Texas. They toured in 2002-6, mostly in the United Kingdom, the NYC/NJ area, Dallas, and with a few shows in Europe including the Sweden Rock Festival and a return to post-Communist Poland. The reunion was the subject of much faux hype by Mark Radcliffe and Marc Riley-Lard on their Radio 1 show, but the pair then "forgot" to do their special Budgie day.
In 2006 Budgie undertook a thirty five date United Kingdom tour and a new album, titled You're All Living In Cuckooland, was released in the UK on 7 November that year. In 2007 they played dates in Sweden and Poland.
On 4th July 2007 Lees announced his departure from the band to concentrate on his teaching and solo career. A statement on his personal website read as follows:
"I am sad to report that I have resigned from my position as Budgie's Lead Guitarist. This is so that I can give my full attention to my guitar students and my One Man Rock Show. It has been a huge honour to work with such an influential band and I know that Burke and Steve will have absolutely no problems in finding a replacement. I wish the lads all the very best for the future."
Following the departure of Lees, Dio lead guitarist and songwriter Craig Goldy offered his services while Ronnie James Dio was completing commitments with Heaven & Hell, (Black Sabbath - The Dio Years) World Tour. In February 2008 Goldy accompanied Budgie on their first tour of Australia where some fans had paid up to AU$500 for VIP passes to meet their "favourite band of all time."
Budgie (band). (2009, January 20). In Wikipedia, The Free Encyclopedia. Retrieved 17:51, January 21, 2009, from http://en.wikipedia.org/w/index.php?title=Budgie_(band)&oldid=265327397
This article has been read 1997 times.
[ Back | Top | Home | Login ]
---
Search

---
Video Gallery


STB - Bored Stiff



---
Photo Gallery


Click Here to Post!!!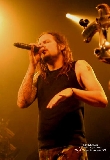 Korn; The Rave, Milwaukee WI; Octob...
---
Concert Reviews
---
Photo Spreads
---
Tour News
---
Podcasts
---
Sponsors


---