---
Search
---
From The Artists Catalog
---
Band-opedia

[ Back | Home | Login ]



"Black Sabbath"
Black Sabbath. (2009, January 20). In Wikipedia, The Free Encyclopedia. Retrieved 19:57, January 20, 2009, from http://en.wikipedia.org/w/index.php?title=Black_Sabbath&oldid=265226520
Black Sabbath are an English heavy metal band. Formed in Birmingham in 1968 by Ozzy Osbourne (lead vocals), Tony Iommi (guitar), Geezer Butler (bass), and Bill Ward (drums and percussion), the band has since experienced multiple lineup changes, with a total of twenty-two former members. Originally formed as a heavy blues-rock band named Earth, the band began incorporating occult- and horror-inspired lyrics with tuned-down guitars, changing their name to Black Sabbath and releasing multiple gold and platinum records in the 1970s.
As one of the first and most influential heavy metal bands of all time, Black Sabbath helped define the genre with releases such as 1970's quadruple-platinum Paranoid.[1] Black Sabbath has sold more than 100 million albums worldwide,[2] and were ranked number one on MTV's Greatest Metal Bands countdown.[3] Ozzy Osbourne was fired from the band in 1979, and while initially replaced by former Rainbow vocalist Ronnie James Dio, Black Sabbath would see a revolving lineup in the 1980s and 1990s that included vocalists Ian Gillan, Glenn Hughes, Ray Gillen and Tony Martin. The original lineup reunited with Osbourne in 1997 and released a live album, Reunion, which spawned the Grammy Award-winning single "Iron Man" in 2000, thirty years after the song's initial release on Paranoid.
Currently, the early 1980s line-up featuring Iommi, Butler, Dio, and Vinny Appice are recording a new album under the moniker Heaven and Hell, a title taken from the 1980 Black Sabbath "Heaven and Hell" song and Heaven and Hell album.
Following the breakup of their previous band Mythology in 1968, guitarist Tony Iommi and drummer Bill Ward sought to form a heavy blues band in Aston, Birmingham. The group enlisted bassist Geezer Butler and vocalist Ozzy Osbourne, who had played together in a band called Rare Breed. The new group was initially named The Polka Tulk Blues Company, and also featured slide guitarist Jimmy Phillips and saxophonist Alan "Aker" Clarke. After shortening the name to Polka Tulk, the band changed their name to Earth, and continued as a four-piece without Phillips and Clarke.[4][5]
Earth played club shows in England, Denmark, and Germany; their set-list consisted of cover songs by Jimi Hendrix, Blue Cheer, and Cream, as well as lengthy improvised blues jams. In December 1968, Iommi abruptly left Earth to join Jethro Tull.[6] Although his stint with the band would be short-lived, Iommi made an appearance with Jethro Tull on the The Rolling Stones Rock and Roll Circus TV show. Unsatisfied with the direction of Jethro Tull, Iommi returned to Earth in January 1969. "It just wasn't right, so I left", Iommi said. "At first I thought Tull were great, but I didn't much go for having a leader in the band, which was Ian Anderson's way. When I came back from Tull, I came back with a new attitude altogether. They taught me that to get on you got to work for it."[7]
While playing shows in England in 1969, the band discovered they were being mistaken for another English group named Earth, and decided to change their name again. A movie theatre across the street from the band's rehearsal room was showing the 1963 Boris Karloff horror film Black Sabbath. While watching people line up to see the film, Butler noted that it was "strange that people spend so much money to see scary movies".[8] Butler wrote a song called "Black Sabbath" after reading a book by occult writer Dennis Wheatley, and seeing a black-hooded figure standing at the foot of his bed.[9] Making use of the musical tritone, also known as "The Devil's Interval", the song's ominous sound and dark lyrics pushed the band in a darker direction, a stark contrast to the popular music of the late 1960s, which was dominated by flower power, folk music, and hippie culture. Inspired by the new sound, the band changed their name to Black Sabbath in August 1969, and made the decision to focus on writing similar material, in an attempt to create the musical equivalent of horror films.
Black Sabbath were signed to Philips Records in December 1969, and released their first single, "Evil Woman" through Philips subsidiary Fontana Records in January 1970. Later releases were handled by Philips' newly formed progressive rock label, Vertigo Records. Although the single failed to chart, the band were afforded two days of studio time in late January to record their debut album with producer Rodger Bain. Iommi recalls recording live: "We thought 'We have two days to do it and one of the days is mixing.' So we played live. Ozzy was singing at the same time, we just put him in a separate booth and off we went. We never had a second run of most of the stuff."[10]
The eponymous Black Sabbath was released on Friday the 13th, February 1970. The album reached number 8 in the UK, and following its US release in May 1970 by Warner Bros. Records, the album reached number 23 on the Billboard 200, where it remained for over a year, selling a million copies.[11][12] While the album was a commercial success, it was widely panned by critics, with Lester Bangs of Rolling Stone dismissing the album as "discordant jams with bass and guitar reeling like velocitised speedfreaks all over each other's musical perimeters, yet never quite finding synch".[13]
To capitalise on their chart success in the US, the band quickly returned to the studio in June 1970, just four months after Black Sabbath was released. The new album was initially set to be named "War Pigs" after the song "War Pigs", which was critical of the Vietnam War. However Warner changed the title of the album to Paranoid, fearing backlash by supporters of the Vietnam War. The album's lead-off single "Paranoid" was written in the studio at the last minute. As Bill Ward explains: "We didn't have enough songs for the album, and Tony just played the (Paranoid) guitar lick and that was it. It took twenty, twenty-five minutes from top to bottom."[14] The single was released ahead of the album in September 1970 and reached number four on the UK charts, remaining Black Sabbath's only top ten hit.[12]
Black Sabbath released their second full-length album, Paranoid in the UK in October 1970. Pushed by the success of the "Paranoid" single, the album hit number one in the UK. The US release was held until January 1971, as the Black Sabbath album was still on the charts at the time of Paranoid's UK release. The album broke into the top ten in the US in March 1971, and would go on to sell four million copies in the US, with virtually no radio airplay.[12] The album was again panned by rock critics of the era, but modern-day reviewers such as Allmusic's Steve Huey cite Paranoid as "one of the greatest and most influential heavy metal albums of all time", which "defined the sound and style of heavy metal more than any other record in rock history".[1] Paranoid's chart success allowed the band to tour the US for the first time in December 1970, which spawned the release of the album's second single "Iron Man". Although the single failed to reach the top 40, "Iron Man" remains one of Black Sabbath's most popular songs, as well as the bands highest charting US single until 1998's "Psycho Man".[11]
In February 1971, Black Sabbath returned to the studio to begin work on their third album. Following the chart success of Paranoid, the band were afforded more studio time, along with a "briefcase full of cash" to purchase drugs.[15] "We were getting into coke, bigtime", Ward explained. "Uppers, downers, Quaaludes, whatever you like. It got to the stage where you come up with ideas and forget them, because you were just so out of it."[16]
Production completed in April 1971, and in July the band released Master of Reality, just six months after the release of Paranoid. The album reached the top ten in both the US and UK, and was certified gold in less than two months, eventually receiving platinum certification in the 1980s. Master of Reality contained Black Sabbath's first acoustic songs, alongside fan favourites such as "Children of the Grave" and "Sweet Leaf".[17] Critical response of the era was again unfavourable, with Lester Bangs of Rolling Stone dismissing Master of Reality as "naïve, simplistic, repetitive, absolute doggerel", although the very same magazine would later place the album at number 298 on their 500 Greatest Albums of All Time list, compiled in 2003.[18]
Following the Master of Reality world tour in 1972, Black Sabbath took its first break in three years. As Bill Ward explained: "The band started to become very fatigued and very tired. We'd been on the road non-stop, year in and year out, constantly touring and recording. I think Master of Reality was kind of like the end of an era, the first three albums, and we decided to take our time with the next album."[19]
In June 1972, the band reconvened in Los Angeles to begin work on their next album at the Record Plant. The recording process was plagued with problems, many as a result of substance abuse issues. While struggling to record the song "Cornucopia" after "sitting in the middle of the room, just doing drugs",[20] Bill Ward was nearly fired from the band. "I hated the song, there were some patterns that were just... horrible" Ward said. "I nailed it in the end, but the reaction I got was the cold shoulder from everybody. It was like 'Well, just go home, you're not being of any use right now.' I felt like I'd blown it, I was about to get fired".[21] The album was originally titled "Snowblind" after the song of the same name, which deals with cocaine abuse. The record company changed the title at the last minute to Black Sabbath, Vol 4, with Ward stating "There was no Volume 1, 2 or 3, so it's a pretty stupid title really".[22]
Black Sabbath's Volume 4 was released in September 1972, and while critics of the era were again dismissive of the album, it achieved gold status in less than a month, and was the band's fourth consecutive release to sell a million copies in the US.[11] With more time in the studio, Volume 4 saw the band starting to experiment with new textures, such as strings, piano, orchestration and multi-part songs.[23] The song "Tomorrow's Dream" was released as a single - the band's first since Paranoid - but failed to chart.[24] Following an extensive tour of the US, the band travelled to Australia for the first time in 1973, and later mainland Europe. Black Sabbath also appeared on England's Top of the Pops in 1973, sharing the stage with such diverse acts as Engelbert Humperdinck and Diana Ross.
Following the Volume 4 world tour, Black Sabbath returned to Los Angeles to begin work on their next release. Pleased with the Volume 4 album, the band sought to recreate the recording atmosphere, and returned to the Record Plant studio in Los Angeles. With new musical innovations of the era, the band were surprised to find that the room they had used previously at the Record Plant was replaced by a "giant synthesiser". The band rented a house in Bel Air and began writing in the summer of 1973, but in part because of substance issues and fatigue, they were unable to complete any songs. "Ideas weren't coming out the way they were on Volume 4 and we really got discontent" Iommi said. "Everybody was sitting there waiting for me to come up with something. I just couldn't think of anything. And if I didn't come up with anything, nobody would do anything."[25]
After a month in Los Angeles with no results, the band opted to return to England, where they rented Clearwell Castle in The Forest of Dean. "We rehearsed in the dungeons and it was really creepy but it had some atmosphere, it conjured up things, and stuff started coming out again".[26] While working in the dungeon, Iommi stumbled onto the main riff of "Sabbath Bloody Sabbath", which set the tone for the new material. Recorded at Morgan Studios in London by Mike Butcher and building off the stylistic changes introduced on Volume 4, new songs incorporated synthesisers, strings, and complex arrangements. Yes keyboardist Rick Wakeman was brought in as a session player, appearing on "Sabbra Cadabra" .[27]
In November 1973, Black Sabbath released the critically acclaimed Sabbath, Bloody Sabbath. For the first time in their career, the band began to receive favourable reviews in the mainstream press, with Gordon Fletcher of Rolling Stone calling the album "an extraordinarily gripping affair", and "nothing less than a complete success".[28] Later reviewers such as Allmusic's Ed Rivadavia cite the album as a "masterpiece, essential to any heavy metal collection," while also displaying "a newfound sense of finesse and maturity".[29] The album marked the band's fifth consecutive platinum selling album in the US, reaching number four on the UK charts, and number eleven in the US. The band began a world tour in January 1974, which culminated at the California Jam festival in Ontario, California on 6 April 1974. Attracting over 200,000 fans, Black Sabbath appeared alongside such 70's pop giants as Emerson, Lake & Palmer; Deep Purple; Earth, Wind & Fire; Seals & Crofts; and The Eagles. Portions of the show were telecast on ABC Television in the US, exposing the band to a wider American audience. In 1974 the band shifted management, signing with notorious English manager Don Arden. The move caused a contractual dispute with Black Sabbath's former management, and while on stage in the US, Ozzy was handed a subpoena that led to two years of litigation.[25]
Black Sabbath began work on their sixth album in February 1975, again in England at Morgan Studios in Willesden, this time with a decisive vision to differ the sound from Sabbath, Bloody Sabbath. "We could've continued and gone on and on, getting more technical, using orchestras and everything else which we didn't particularly want to. We took a look at ourselves, and we wanted to do a rock album - Sabbath, Bloody Sabbath wasn't a rock album, really."[30] Produced by Black Sabbath and Mike Butcher, Sabotage was released in July 1975. Again the album initially saw favourable reviews, with Rolling Stone stating "Sabotage is not only Black Sabbath's best record since Paranoid, it might be their best ever",[31] although later reviewers such as Allmusic noted that "the magical chemistry that made such albums as Paranoid and Volume 4 so special was beginning to disintegrate".[32]
Sabotage reached the top 20 in both the US and the UK, but was the band's first release not to achieve platinum status in the US. Although the album's only single "Am I Going Insane (Radio)" failed to chart, Sabotage features fan favourites such as "Hole in the Sky", and "Symptom of the Universe".[32] Black Sabbath toured in support of Sabotage with openers Kiss, but were forced to cut the tour short in November 1975, following a motorcycle accident in which Ozzy ruptured a muscle in his back. In December 1975, the band's record companies released a greatest hits record without input from the band, titled We Sold Our Soul for Rock 'n' Roll. The album charted throughout 1976, eventually selling two million copies in the US.
Black Sabbath began work for their next album at Criteria Studios in Miami, Florida, in June 1976. To expand their sound, the band added keyboard player Gerry Woodruffe, who also appeared to a lesser extent on Sabotage. Technical Ecstasy, released on 25 September 1976, was met with mixed reviews. Allmusic gave the album two stars, and noted that the band was "unravelling at an alarming rate".[33] The album featured less of the doomy, ominous sound of previous efforts, and incorporated more synthesisers and uptempo rock songs. Technical Ecstasy failed to reach the top 50 in the US, and was the band's second consecutive release not to achieve platinum status, although it was later certified gold in 1997. The album included "Dirty Women", which remains a live staple, as well as Bill Ward's first lead vocal on the song "It's Alright". Touring in support of Technical Ecstasy began in November 1976, with openers Boston and Ted Nugent in the US, and completed in Europe with AC/DC in April 1977.
In November 1977, while in rehearsal for their next album, and just days before the band was set to enter the studio, Ozzy Osbourne quit the band. "The last Sabbath albums were just very depressing for me", Ozzy said. "I was doing it for the sake of what we could get out of the record company, just to get fat on beer and put a record out."[34] Former Fleetwood Mac and Savoy Brown vocalist Dave Walker was brought into rehearsals in October 1977 and the band began working on new songs.[11] On 8 January 1978, Black Sabbath made their first and only appearance with Walker on vocals, playing an early version of the song "Junior's Eyes" on the BBC Television program "Look! Hear!".
Osbourne initially set out to form a solo project, which featured ex-Dirty Tricks members John Frazer-Binnie, Terry Horbury, and Andy Bierne. As the new band were in rehearsals in January 1978, Osbourne had a change of heart and rejoined Black Sabbath. "Three days before we were due to go into the studio, Ozzy wanted to come back to the band," Iommi explained. "He wouldn't sing any of the stuff we'd written with the other guy, so it made it very difficult. We went into the studio with basically no songs. We'd write in the morning so we could rehearse and record at night. It was so difficult, like a conveyor belt, because you couldn't get time to reflect on stuff. 'Is this right? Is this working properly?' It was very difficult for me to come up with the ideas and putting them together that quick."[34]
The band spent five months at Sounds Interchange Studios in Toronto, Canada, writing and recording what would become Never Say Die!. "It took quite a long time," Iommi said. "We were getting really drugged out, doing a lot of dope. We'd go down to the sessions, and have to pack up because we were too stoned, we'd have to stop. Nobody could get anything right, we were all over the place, everybody's playing a different thing. We'd go back and sleep it off, and try again the next day."[34] The album was released in September 1978, reaching number twelve in the UK, and number 69 in the US. Press response was again unfavourable, with Ed Rivadavia of Allmusic stating that the album's "unfocused songs perfectly reflected the band's tense personnel problems and drug abuse."[35] The album featured the singles "Never Say Die" and "Hard Road", both of which cracked the top 40 in the UK, and the band made their second appearance on the Top of the Pops, performing "Never Say Die".
Touring in support of Never Say Die! began in May 1978 with openers Van Halen. Reviewers called Black Sabbath's performance "tired and uninspired", a stark contrast to the "youthful" performance of Van Halen, who were touring the world for the first time.[36] The band filmed a performance at the Hammersmith Odeon in June 1978, which was later released on DVD as Never Say Die. The final show of the tour, and Osbourne's last appearance with the band (until later reunions) was in Albuquerque, New Mexico on 11 December.
Following the tour, Black Sabbath returned to Los Angeles and again rented a house in Bel Air, where they spent nearly a year working on material for the next album. With pressure from the record label, and frustrations with Osbourne's lack of ideas coming to a head, Tony made the decision to fire Ozzy Osbourne in 1979. "At that time, Ozzy had come to an end", Iommi said. "We were all doing a lot of drugs, a lot of coke, a lot of everything, and Ozzy was getting drunk so much at the time. We were supposed to be rehearsing and nothing was happening. It was like 'Rehearse today? No, we'll do it tomorrow.' It really got so bad that we didn't do anything. It just fizzled out."[37] Drummer Bill Ward, who was close with Ozzy, was chosen by Tony to break the news to the singer. "I hope I was professional, I might not have been, actually. When I'm drunk I am horrible, I am horrid," Ward said. "Alcohol was definitely one of the most damaging things to Black Sabbath. We were destined to destroy each other. The band were toxic, very toxic."[38]
Sharon Arden, (later Sharon Osbourne) daughter of Black Sabbath manager Don Arden, suggested former Rainbow vocalist Ronnie James Dio to replace Ozzy Osbourne in 1979. Dio officially joined in June, and the band began writing their next album. With a notably different vocal style from Osbourne's, Dio's addition to the band marked a change in Black Sabbath's sound. "They were totally different altogether", Iommi explains. "Not only voice-wise, but attitude-wise. Ozzy was a great showman, but when Dio came in, it was a different attitude, a different voice and a different musical approach, as far as vocals. Dio would sing across the riff, whereas Ozzy would follow the riff, like in "Iron Man". Ronnie came in and gave us another angle on writing."[39]
Geezer Butler temporarily left the band in September 1979, and was initially replaced by Geoff Nicholls of Quartz on bass. The new lineup returned to Criteria Studios in November to begin recording work, with Butler returning to the band in January 1980, and Nicholls moving to keyboards. Produced by Martin Birch, Heaven and Hell, was released on 25 April 1980, to critical acclaim. Allmusic said the album was "one of Sabbath's finest records, the band sounds reborn and re-energized throughout".[40] Heaven and Hell peaked at number 9 in the UK, and number 28 in the US, the band's highest charting album since Sabotage. The album would eventually sell a million copies in the US, and the band embarked on an extensive world tour, making their first live appearance with Dio in Germany on 17 April 1980.
Black Sabbath toured the US throughout 1980 with Blue ├ - yster Cult on the "Black and Blue" tour, with a show at Nassau Coliseum in Uniondale, New York filmed and released theatrically in 1981 as Black and Blue. On 26 July 1980, the band played at a sold out Memorial Coliseum in Los Angeles with Journey, Cheap Trick, and Molly Hatchet to 100,000 fans. The next day, the band appeared at the 1980 Day on the Green at Oakland Coliseum. While on tour, Black Sabbath's former label in England issued a live album culled from a seven-year old performance, entitled Live at Last without any input from the band. The album reached number five on the British charts, and saw the re-release of "Paranoid" as a single, which reached the top 20.
On 18 August 1980, after a show in Minneapolis, Minnesota, Bill Ward was fired from Black Sabbath. "I was sinking very quickly", Ward later said. "I was an unbelievable drunk, I was drunk twenty-four hours a day. When I went on stage, the stage wasn't so bright. It felt like I was dying inside. The live show seemed so bare, Ron was out there doing his thing and I just went 'It's gone'. I like Ronnie, but musically, he just wasn't for me."[41] Concerned with Ward's declining health, Iommi brought in drummer Vinny Appice, without informing Ward. "They didn't talk to me, they booted me from my chair and I wasn't told about that. I knew they'd have to bring in a drummer to save the (tour), but I'd been with the band for years and years, since we were kids. And then Vinny was playing and it was like 'What the fuck?' It hurt a lot."[42]
The band completed the Heaven and Hell world tour in February 1981, and returned to the studio to begin work on their next album. Again produced by Martin Birch, and recorded at John Lennon's old house in Ascot, England, Black Sabbath's second album with Dio, Mob Rules was well received by fans, but received mixed reviews from critics. Allmusic's Ed Rivadavia called Mob Rules "a magnificent record",[43] while Rolling Stones J.D. Considine gave the album one star, claiming "Mob Rules finds the band as dull-witted and flatulent as ever".[44] The album was certified gold, and reached the top 20 on the UK charts. The album's title track "The Mob Rules" was also featured in the 1981 animated film Heavy Metal, although the film version is an alternate take, and differs from the album version.
The chart success of the unauthorised live album Live at Last prompted the band to record their first official live album titled Live Evil on the Mob Rules world tour, in Dallas, Texas, San Antonio, Texas, and Seattle, Washington, in May, 1982. During the mixing process for the album, Iommi and Butler had a falling out with Dio. Iommi and Butler accused Dio of sneaking into the studio at night to raise the volume of his vocals. In addition, Dio was not satisfied with the pictures of him in the artwork.[45] "Ronnie wanted more say in things," Iommi said. "And Geezer would get upset with him and that is where the rot set in. Live Evil is when it all fell apart. Ronnie wanted to do more of his own thing, and the engineer we were using at the time in the studio didn't know what to do, because Ronnie was telling him one thing and we were telling him another. At the end of the day, we just said, 'That's it, the band is over'".[46] "When it comes time for the vocal, nobody tells me what to do. Nobody! Because they're not as good as me, so I do what I want to do," Dio later said. "I refuse to listen to Live Evil, because there are too many problems. If you look at the credits, the vocals and drums are listed off to the side. Open up the album and see how many pictures there are of Tony, and how many there are of me and Vinny".[47]
Ronnie James Dio left Black Sabbath in November 1982 to start a solo project, and took drummer Vinny Appice with him. Live Evil was released in January 1983, but was overshadowed by Ozzy Osbourne's Speak of the Devil, a platinum selling live album that contained only Black Sabbath songs, released five months earlier.[48]
Left with just two original members, Tony Iommi and Geezer Butler began auditioning new singers for the band's next release. After failed attempts with the likes of Whitesnake's David Coverdale, Samson's Nicky Moore, and Lone Star's John Sloman, the band settled on former Deep Purple vocalist Ian Gillan to replace Ronnie James Dio in 1983.[11] While the project was not initially set to be called Black Sabbath, pressures from the record label forced the group to retain the name. The band entered The Manor Studios in Shipton-on-Cherwell, Oxfordshire, England, in June 1983 with a returned and newly sober Bill Ward on drums. Born Again was met with mixed reviews from fans and critics alike. Allmusic's Ed Rivadavia called the album "dreadful", noting that "Gillan's bluesy style and humorous lyrics were completely incompatible with the lords of doom and gloom".[49] The album reached number four on the UK charts, and number 39 in the US.[24]
Although he performed on the album, drummer Bill Ward was unable to tour because of the pressures of the road, and quit the band in 1984. "I fell apart with the idea of touring," Ward later said. "I got so much fear behind touring, I didn"t talk about the fear, I drank behind the fear instead and that was a big mistake."[50] Ward was replaced by former Electric Light Orchestra drummer Bev Bevan for the Born Again world tour, which began in Europe with Diamond Head, and later in the US with Quiet Riot and Night Ranger. The band headlined the 1983 Reading Festival, adding the Deep Purple song "Smoke on the Water" to their set list.
The tour in support of Born Again included a giant set of the Stonehenge monument. In a move that would be later parodied in the mockumentary This is Spinal Tap, the band made a mistake in ordering the set piece. As Geezer Butler later explained:
We had Sharon Osbourne's dad, Don Arden, managing us. He came up with the idea of having the stage set be Stonehenge. He wrote the dimensions down and gave it to our tour manager. He wrote it down in meters but he meant to write it down in feet. The people who made it saw fifteen meters instead of fifteen feet. It was 45 feet high and it wouldn't fit on any stage anywhere so we just had to leave it in the storage area. It cost a fortune to make but there was not a building on earth that you could fit it into.[51]
Following the completion of the Born Again tour in March 1984, vocalist Ian Gillan left Black Sabbath to re-join Deep Purple. The band enlisted Los Angeles vocalist David Donato, the only Black Sabbath vocalist not to record an album with the band. The new lineup wrote and rehearsed throughout 1984, and eventually recorded a demo with producer Bob Ezrin in October. Unhappy with the results, the band parted ways with Donato shortly after.[11]
Disillusioned with the band's revolving lineup, bassist Geezer Butler quit Black Sabbath in November 1984 to form a solo band. "When Ian Gillan took over that was the end of it for me", Butler later said. "I thought it was just a joke and I just totally left. When we got together with Gillan it was not supposed to be a Black Sabbath album. After we had done the album we gave it to Warner Bros. and they said they were going to put it out as a Black Sabbath album and we didn"t have a leg to stand on. I got really disillusioned with it and Gillan was really pissed off about it. That lasted one album and one tour and then that was it."[51]
Following Butler's exit, sole remaining original member Tony Iommi put Black Sabbath on hiatus, and began work on a solo album with keyboardist Geoff Nicholls. While working on new material, the original Black Sabbath lineup were offered a spot at Bob Geldof's Live Aid benefit concert on 13 July 1985. The band agreed, performing a three song set at the Philadelphia show. The event marked the first time the original lineup appeared on stage since 1978, and also featured reunions of The Who, Led Zeppelin and Neil Young with Crosby, Stills, and Nash. Although there were rumours of a full Black Sabbath reunion following Live Aid, Ozzy Osbourne was enjoying success as a solo artist, having released three top 20 albums, and selling nearly ten million albums since his firing from Black Sabbath.
Returning to his solo work, Iommi enlisted bassist Dave Spitz and drummer Eric Singer, and initially intended to use multiple singers, including Rob Halford of Judas Priest, ex-Deep Purple and Trapeze vocalist Glenn Hughes, and ex-Black Sabbath vocalist Ronnie James Dio. "We were going to use different vocalists on the album, guest vocalists, but it was so difficult getting it together and getting releases from their record companies. Glenn Hughes came along to sing on one track and we decided to use him on the whole album."[52]
The band spent the remainder of the year in the studio, recording what would become Seventh Star. Warner Bros. refused to release the album as a Tony Iommi solo release, instead insisting on using the name Black Sabbath. Pressured by the band's manager, Don Arden, the two compromised and released the album as "Black Sabbath featuring Tony Iommi" in January 1986. "It opened up a whole can of worms really," Iommi explained, "because I think if we could have done it as a solo album, it would have been accepted a lot more."[53] Seventh Star, which sounded little like a Black Sabbath album, incorporated more hard rock elements popularised by the 1980s Sunset Strip hard rock scene, and was panned by the critics of the era, although later reviewers such as Allmusic gave the album favourable reviews, calling the album "often misunderstood and underrated".[54]
The new lineup rehearsed for six weeks, preparing for a full world tour, although the band were again forced to use the Black Sabbath name. "I was into the 'Tony Iommi project', but I wasn't into the Black Sabbath moniker," Hughes said. "The idea of being in Black Sabbath didn't appeal to me whatsoever. Glenn Hughes singing in Black Sabbath is like James Brown singing in Metallica. It wasn't gonna work".[52][55] Just four days before the start of the tour, vocalist Glenn Hughes got into a bar fight with the band's production manager John Downing which splintered the singer's orbital bone. The injury interfered with Hughes' ability to sing, and the band brought in vocalist Ray Gillen to continue the tour with W.A.S.P. and Anthrax, although nearly half of the US dates would eventually be cancelled because of poor ticket sales.[56]
Black Sabbath began work on new material in October 1986 at Air Studios in Montserrat with producer Jeff Glixman. The recording was wrought with problems from the beginning, as Glixman left after the initial sessions, and was replaced by producer Vic Coppersmith-Heaven. Bassist Dave Spitz quit over "personal issues", and ex-Rainbow bassist Bob Daisley was brought in. Daisley re-recorded all of the bass tracks, and wrote the album's lyrics, but before the album was complete, he left to join Gary Moore's solo band, taking drummer Eric Singer with him.[11] After problems with second producer Coppersmith-Heaven, the band returned to Morgan Studios in England in January 1987 to work with new producer Chris Tsangarides. While working in the UK, new vocalist Ray Gillen abruptly left Black Sabbath to form Blue Murder with John Sykes. The band enlisted ex-Alliance vocalist Tony Martin to re-record Gillen's tracks, and former drummer Bev Bevan to complete a few percussion overdubs.[57]
Before the release of the new album, Black Sabbath accepted an offer to play six shows at Sun City, South Africa during the apartheid. The band drew criticism from activists and artists involved with Artists United Against Apartheid, who had been boycotting South Africa since 1985. Drummer Bev Bevan refused to play the shows, and was replaced by Terry Chimes, formerly of The Clash.[57]
After nearly a year in production, The Eternal Idol was released on 8 December 1987, to mixed reviews. Allmusic said that "Martin's powerful voice added new fire" to the band, and the album contained "some of Iommi's heaviest riffs in years."[58] Blender gave the album two stars, claiming the album was "Black Sabbath in name only".[59] The album would be Black Sabbath's first release not to chart in the UK, while peaking at 168 in the US.[24] The band toured in support of Eternal Idol in Germany, Italy and for the first time, Greece. Unfortunately, in part because of a backlash from promoters over the South Africa incident, other European shows were cancelled.[60] Bassist Dave Spitz left the band shortly before the tour, and was replaced by Jo Burt.
Following the poor commercial performance of Eternal Idol, Black Sabbath were dropped by Vertigo Records and Warner Bros. Records, and signed with I.R.S. Records.[57] In January 1988, the band began rehearsals for a planned upcoming US tour, but with low ticket sales, the tour was cancelled. The band took time off in 1988, returning in August to begin work on their next album. As a result of the recording troubles with Eternal Idol, Tony Iommi opted to produce the band's next album himself. "It was a completely new start", Iommi said. "I had to rethink the whole thing, and decided that we needed to build up some credibility again".[61] Iommi enlisted ex-Rainbow drummer Cozy Powell, and session bassist Laurence Cottle, and rented a "very cheap studio in England".[61]
Black Sabbath released Headless Cross in April 1989, to favourable reviews. Allmusic gave the album four stars, calling Headless Cross "the finest non-Ozzy or Dio Black Sabbath album".[62] Anchored by the top 40 single "Headless Cross", the album reached number 31 on the UK charts, and number 115 in the US.[24] Queen guitarist Brian May, a friend of Iommi's, played a guest solo on the song "When Death Calls". Following the album's release, the band added touring bassist Neil Murray, formerly of Whitesnake.[11]
The ill-fated Headless Cross US tour began in May 1989 with openers Kingdom Come and Silent Rage, but because of poor ticket sales, the tour was cancelled after just eight shows.[63] The European leg of the tour began in September, where the band were enjoying chart success. After a string of Japanese shows, the band embarked on a 23 date Russian tour with Girlschool. Black Sabbath was one of the first bands to tour Russia, after Mikhail Gorbachov opened the country to western acts for the first time in 1989.[60]
The band returned to the studio in February 1990 to record Tyr, the follow-up to Headless Cross. While not technically a concept album, some of the album's lyrical themes are loosely based on Norse mythology.[63] Tyr was released on 6 August 1990, and reached number 24 on the UK albums chart, but was the first Black Sabbath release not to break the Billboard 200 in the US.[24] The album again received mixed reviews, with Allmusic noting that the band "mix myth with metal in a crushing display of musical synthesis,"[64] while Blender gave the album just one star, claiming that "Iommi continues to besmirch the Sabbath name with this unremarkable collection".[65] The band toured in support of Tyr with Circus of Power in Europe, but the final seven UK dates were cancelled because of poor ticket sales.[66] For the first time in their career, the band's touring cycle did not include US dates.[67]
While on his own Lock Up The Wolves US tour in August 1990, former Black Sabbath vocalist Ronnie James Dio was joined on stage at the Minneapolis Forum by former Black Sabbath bassist Geezer Butler to perform "Neon Knights". Following the show, the two expressed interest in rejoining Black Sabbath. Butler convinced Iommi, who in turn broke up the current lineup, dismissing vocalist Tony Martin and bassist Neil Murray. "I do regret that in a lot of ways", Iommi said. "We were at a good point then. We decided to [reunite with Dio] and I don't even know why, really. There's the financial aspect, but that wasn't it. I seemed to think maybe we could recapture something we had".[61]
Ronnie James Dio and Geezer Butler joined Tony Iommi and Cozy Powell in the fall of 1990 to begin working on the next Black Sabbath release. While rehearsing in November, Powell suffered a broken hip when his horse died, falling on the drummer's legs.[68] Unable to complete work on the album, Powell was replaced by former drummer Vinny Appice, and the band entered the studio with producer Reinhold Mack. The year-long recording process was plagued with problems, primarily stemming from writing tension between Tony Iommi and Ronnie James Dio, as some songs were re-written multiple times.[69] "Dehumanizer took a long time, it was just hard work", Iommi said. "We took too long on it, that album cost us a million dollars, which is bloody ridiculous".[70] Dio later recalled the album as difficult, but worth the effort. "It was something we had to really wring out of ourselves, but I think that's why it works", he said. "Sometimes you need that kind of tension, or else you end up making the Christmas album".[71]
The resulting album, Dehumanizer was released on 22 June 1992. In the US, the album was released on 30 June 1992 by Reprise Records, as Ronnie James Dio and his namesake band were still under contract with the label at the time. While the album received mixed reviews,[68][72] it was the band's biggest commercial success in ten years.[11] Anchored by the top 40 rock radio single "TV Crimes", the album peaked at number 44 on the Billboard 200.[11] The album also featured the song "Time Machine", a version of which had been recorded for the 1992 film Wayne's World.
Black Sabbath began touring in support of Dehumanizer in July 1992 with Testament, Danzig, Prong, and Exodus. While on tour, former vocalist Ozzy Osbourne announced his first retirement, and invited Black Sabbath to open for his solo band at the final two shows of his No More Tours tour in Costa Mesa, California. The band agreed, aside from vocalist Ronnie James Dio, who said:
I was told in the middle of the tour that we would be opening for Ozzy in Los Angeles. And I said, "No. Sorry, I have more pride than that." A lot of bad things were being said from camp to camp, and it created this horrible schism. So by [the band] agreeing to play the shows in L.A. with Ozzy, that, to me, spelled out reunion. And that obviously meant the doom of that particular project.[71]
Dio quit Black Sabbath following a show in Oakland, California on 13 November 1992, one night before the band were set to appear at Osbourne's retirement show. Judas Priest vocalist Rob Halford stepped in at the last minute, performing two nights with the band.[73] Iommi and Butler also joined Osbourne and former drummer Bill Ward on stage for the first time since 1985's Live Aid concert, performing a brief set of Black Sabbath songs.
Drummer Vinny Appice left the band following the reunion show to join Ronnie James Dio's solo band, later appearing on Dio's Strange Highways and Angry Machines. Iommi and Butler enlisted former Rainbow drummer Bobby Rondinelli, and reinstated former vocalist Tony Martin. The band returned to the studio to work on new material, again not originally intended to be released under the Black Sabbath name. As Geezer Butler explains:
It wasn't even supposed to be a Sabbath album; I wouldn't have even done it under the pretence of Sabbath. That was the time when the original band were talking about getting back together for a reunion tour. Tony and myself just went in with a couple of people, did an album just to have, while the reunion tour was (supposedly) going on. It was like an Iommi/Butler project album.[74]
Under pressure from their record label, the band released their seventeenth studio album, Cross Purposes, on 8 February 1994, under the Black Sabbath name. The album again received mixed reviews, with Blender giving the album two stars, calling Soundgarden's 1994 album Superunknown "a far better Sabbath album than this by-the-numbers potboiler".[75] Allmusic's Bradley Torreano called Cross Purposes "the first album since Born Again that actually sounds like a real Sabbath record".[76] The album failed to chart in the UK, but reached 122 on the Billboard 200 in the US. Cross Purposes contained the song "Evil Eye", which was co-written by Van Halen guitarist Eddie Van Halen, although uncredited because of record label restrictions.[77] Touring in support of Cross Purposes began in February with Morbid Angel and Mot├Ârhead in the US. The band filmed a live performance at the Hammersmith Apollo on 13 April 1994, which was released on VHS accompanied by a CD, entitled Cross Purposes Live. After the European tour with Cathedral and Godspeed in June 1994, drummer Bobby Rondinelli quit the band and was replaced by original Black Sabbath drummer Bill Ward for five shows in South America.
Following the touring cycle for Cross Purposes, bassist Geezer Butler again quit the band. "I finally got totally disillusioned with the last Sabbath album, and I much preferred the stuff I was writing to the stuff Sabbath were doing".[74] Butler formed a solo project called GZR, and released Plastic Planet in 1995. The album contained the song "Giving Up the Ghost", which was critical of Tony Iommi for carrying on with the Black Sabbath name, with the lyrics: You plagiarized and parodied / the magic of our meaning / a legend in your own mind / left all your friends behind / you can't admit that you're wrong / the spirit is dead and gone.[78]
Following Butler's departure, newly returned drummer Bill Ward once again left the band. Iommi reinstated former members Neil Murray on bass, and Cozy Powell on drums, effectively reuniting the Tyr lineup. The band enlisted Body Count guitarist Ernie C to produce the new album, which was recorded in London in the fall of 1994. The album featured a guest vocal on "Illusion of Power" by Body Count vocalist Ice T.[79] The resulting Forbidden, was released on 8 June 1995, but failed to chart in the US or the UK.[80][81] The album was widely panned by critics; Allmusic's Bradley Torreano said "with boring songs, awful production, and uninspired performances, this is easily avoidable for all but the most enthusiastic fan";[82] while Blender magazine called Forbidden "an embarrassment ... the band"s worst album".[83]
Black Sabbath embarked on a world tour in July 1995 with openers Mot├Ârhead and Tiamat, but two months into the tour, drummer Cozy Powell left the band, citing health issues, and was replaced by former drummer Bobby Rondinelli. After completing Asian dates in December 1995, Tony Iommi put the band on hiatus, and began work on a solo album with former Black Sabbath vocalist Glenn Hughes, and former Judas Priest drummer Dave Holland. The album was not officially released following its completion, although a widely traded bootleg called Eighth Star surfaced soon after. The album was officially released in 2004 as The 1996 DEP Sessions, with Holland's drums re-recorded by session drummer Jimmy Copley.[84]
In 1997, Tony Iommi disbanded the current lineup to officially reunite with Ozzy Osbourne and the original Black Sabbath lineup. Vocalist Tony Martin claimed that an original lineup reunion had been in the works since the band's brief reunion at Ozzy Osbourne's 1992 Costa Mesa show, and that the band released subsequent albums to fulfill their record contract with I.R.S. records. Martin later recalled Forbidden as a "filler album that got the band out of the label deal, rid of the singer, and into the reunion. However I wasn"t privy to that information at the time".[85] I.R.S. Records released a compilation album in 1996 to fulfill the band's contract, entitled The Sabbath Stones, which featured songs from Born Again to Forbidden.
In the summer of 1997, Tony Iommi, Geezer Butler, and Ozzy Osbourne officially reunited to co-headline the Ozzfest festival tour along side Osbourne's solo band. The lineup featured Osbourne's drummer Mike Bordin filling in for Bill Ward, who was unable to participate because of previous commitments with his solo project, The Bill Ward Band.[11] In December 1997, the group was joined by Ward, marking the first reunion of the original four members since Osbourne's 1992 "retirement show". The original lineup recorded two shows at the Birmingham NEC, which were released as the double live album Reunion on 20 October 1998. Reunion reached number eleven on the Billboard 200, and went platinum in the US.[11][24] The album spawned the single "Iron Man", which won Black Sabbath its first Grammy award in 2000 for Best Metal Performance, 30 years after the song was originally released and was used in the film Iron Man, based on the Marvel Comics superhero. Reunion also featured two new studio tracks, "Psycho Man" and "Selling My Soul", both of which cracked the top 20 on the Billboard Mainstream Rock Tracks chart.[24]
Shortly before the band embarked on a European tour in the summer of 1998, drummer Bill Ward suffered a heart attack and was temporarily replaced by former drummer Vinny Appice.[86] Ward returned in time for the US tour with openers Pantera, which began in January 1999 and continued through the summer, headlining the annual Ozzfest tour.[11] Following the Ozzfest appearances, the band was put on hiatus while members worked on solo material. Tony Iommi released his first official solo album, Iommi, in 2000, while Osbourne continued work on his next solo release, Down to Earth.
Black Sabbath returned to the studio to work on new material with all four original members and producer Rick Rubin in the spring of 2001,[11] but the sessions were halted when Osbourne was called away to finish tracks for his solo album in the summer of 2001.[87] "It just came to an end", Iommi said. "We didn't go any further, and it's a shame because [the songs] were really good".[88] Iommi commented on the difficulty getting all of the band members together to work on material:
"It's quite different recording now. We've all done so much in between. In [the early] days there was no mobile phone ringing every five seconds. When we first started, we had nothing. We all worked for the same thing. Now everybody has done so many other things. It's great fun and we all have a good chat, but it's just different, trying to put an album together."[88]
In March 2002, Ozzy Osbourne's Emmy winning reality TV show "The Osbournes" debuted on MTV, and quickly became a worldwide hit.[11] The show introduced Osbourne to a broader audience and to capitalise, the band's back catalogue label, Sanctuary Records released a double live album Past Lives, which featured concert material recorded in the 70's, including the previously unofficial Live at Last album. The band remained on hiatus until the summer of 2004 when they returned to headline Ozzfest 2004 and 2005. In November 2005, Black Sabbath were inducted into the UK Music Hall of Fame, and in March 2006, after eleven years of eligibility, the band were inducted into the US Rock and Roll Hall of Fame.[89] At the awards ceremony Metallica played two Black Sabbath songs, "Hole in the Sky" and "Iron Man" in tribute to the band.[90]
While Ozzy Osbourne was working on new solo material in 2006, Warner records released The Dio Years, a compilation of songs culled from the four Black Sabbath releases featuring Ronnie James Dio. For the release, Iommi and Dio reunited to write and record three new songs. The Dio Years was released on 3 April 2007, reaching number 54 on the Billboard 200, while the single "The Devil Cried" reached number 37 on the Mainstream Rock Tracks chart.[24] Pleased with the results, Iommi and Dio decided to reunite the Heaven and Hell era lineup for a world tour. While the lineup of Osbourne, Butler, Iommi and Ward were still officially called Black Sabbath, the new lineup opted to call themselves Heaven and Hell, after the album of the same name, to avoid confusion. Drummer Bill Ward was initially set to participate, but dropped out before the tour began, and was replaced by former drummer Vinny Appice, effectively reuniting the lineup that had featured on the Mob Rules and Dehumanizer albums.
Heaven and Hell toured the US with openers Megadeth and Machine Head, and recorded a live album and DVD in New York on 30 March 2007, entitled Live from Radio City Music Hall. In November 2007, Dio confirmed that the band have plans to record a new studio album in 2008.[91] In April 2008 the band announced the upcoming release of a new box set and their participation in The Metal Masters Tour, alongside Judas Priest, Mot├Ârhead and Testament.[92] The box set, The Rules of Hell, featuring remastered versions of all the Dio fronted Black Sabbath albums, is set to be supported by the Metal Masters Tour.
Although Black Sabbath have gone through many lineups and stylistic changes, their original sound focused on ominous lyrics and doomy music, often making use of the musical tritone, also called the "devil's interval". Standing as a stark contrast to popular music of the early 1970s, Black Sabbath's dark sound was dismissed by rock critics of the era, and the band received virtually no airplay on rock radio.
As the band's primary songwriter, Tony Iommi wrote the majority of Black Sabbath's music, while Osbourne would write vocal melodies, and bassist Geezer Butler would write lyrics. The process was sometimes frustrating for Iommi, who often felt pressured to come up with new material. "If I didn't come up with anything, nobody would do anything."[25] On Iommi's influence, Osbourne later said:
"Black Sabbath never used to write a structured song. There'd be a long intro that would go into a jazz piece, then go all folky... and it worked. Tony Iommi - and I have said this a zillion times - should be up there with the greats. He can pick up a guitar, play a riff, and you say, 'He's gotta be out now, he can't top that.' Then you come back and I bet you a billion dollars, he'd come up with a riff that'd knock your fucking socks off."[93]
Early Black Sabbath albums feature tuned-down guitars, which contributed to the dark feel of the music.[11] In 1966, before forming Black Sabbath, guitarist Tony Iommi suffered an accident while working in a sheet metal factory, losing the tips of two fingers on his right hand. Iommi almost gave up music, but was urged by a friend to listen to Django Reinhardt, a jazz guitarist who lost the use of two fingers.[94] Inspired by Reinhardt, Iommi created two thimbles made of plastic and leather to cap off his missing fingers. The guitarist began using lighter strings, and detuning his guitar, to better grip the strings with his prosthetics; a move which inadvertently gave the music a darker feel".[94]
With more than 100 million albums sold worldwide,[2] Black Sabbath are arguably the most influential heavy metal band of all time. The band helped to create the genre with ground breaking releases such as Paranoid, an album that Rolling Stone magazine said "changed music forever", [95] and called the band "the Beatles of heavy metal".[96] Time Magazine called Paranoid "the birthplace of heavy metal", placing it in their Top 100 Albums of All Time.[97] MTV placed Black Sabbath at number one on their Top Ten Heavy Metal Bands.[98] VH1 ranked Black Sabbath's "Iron Man" the number one song on their 40 Greatest Metal Songs countdown.[99] Allmusic's William Ruhlmann said:
Black Sabbath has been so influential in the development of heavy metal rock music as to be a defining force in the style. The group took the blues-rock sound of late '60s acts like Cream, Blue Cheer, and Vanilla Fudge to its logical conclusion, slowing the tempo, accentuating the bass, and emphasising screaming guitar solos and howled vocals full of lyrics expressing mental anguish and macabre fantasies. If their predecessors clearly came out of an electrified blues tradition, Black Sabbath took that tradition in a new direction, and in so doing helped give birth to a musical style that continued to attract millions of fans decades later.[11]
Black Sabbath's influence on heavy metal is almost unparalleled, the band are cited as highly influential by countless bands, including Metallica, Iron Maiden,[100] Anthrax, Iced Earth, Opeth,[101] Pantera, Megadeth,[102] The Smashing Pumpkins,[103] Slipknot,[104] the Foo Fighters,[105] Fear Factory,[106] and Godsmack.[107] Two gold selling tribute albums have been released, Nativity in Black Volume 1 & 2, including songs by Sepultura, White Zombie, Type O Negative, Faith No More, Machine Head, System of a Down and Monster Magnet.
Metallica's Lars Ulrich, who, along with bandmate James Hetfield inducted Black Sabbath into the Rock and Roll Hall of Fame in 2006, said "Black Sabbath is and always will be synonymous with heavy metal",[108]while Hetfield said "Sabbath got me started on all that evil-sounding shit, and it's stuck with me. Tony Iommi is the king of the heavy riff."[109] Ex-Guns N' Roses guitarist Slash said of the Paranoid album: "There's just something about that whole record that, when you're a kid and you're turned onto it, it's like a whole different world. It just opens up your mind to another dimension...Paranoid is the whole Sabbath experience; very indicative of what Sabbath meant at the time. Tony's playing style "" doesn"t matter whether it's off 'Paranoid' or if it's off 'Heaven and Hell' "" it's very distinctive."[109] Anthrax guitarist Scott Ian said "I always get the question in every interview I do, 'What are your top five metal albums?' I make it easy for myself and always say the first five Sabbath albums."[109] Lamb of God's Chris Adler said "If anybody who plays heavy metal says that they weren't influenced by Black Sabbath's music, then I think that they're lying to you. I think all heavy metal music was, in some way, influenced by what Black Sabbath did."[110]
Black Sabbath. (2009, January 20). In Wikipedia, The Free Encyclopedia. Retrieved 19:57, January 20, 2009, from http://en.wikipedia.org/w/index.php?title=Black_Sabbath&oldid=265226520
This article has been read 2199 times.
[ Back | Top | Home | Login ]
---
Search

---
Video Gallery


Jesse Sublett - Earthquake Shake



---
Photo Gallery


Click Here to Post!!!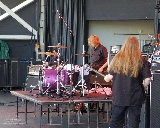 Lockjaw; Summerfest Zippo Rock Stag...
---
Concert Reviews
---
Photo Spreads
---
Tour News
---
Podcasts
---
Sponsors


---