Club Kingsnake - Music Press Releases
These Press Releases are submitted by bands, publicists and the staff of Club Kingsnake. PLEASE NOTE - All Press Releases are reviewed before listing and releases that are not on topic will not be listed. Submitting a release does not guarantee listing. To add a music press release click here.
Earlimart Headlines "Check One Twosdays" At Echoplex TONIGHT!
That's Right!
As 08 comes to a close, those kids from Earlimart are BUSY!
Here's what's happening.

TONIGHT Earlimart headline the kick off show for INDIE 103.1 "Check One Twosdays at the Echoplex" w/ The Afternoons


Earlimart perform on the WB 's "Rockville, CA.", the new online show from Gossip Girl creator
http://www.pitchforkmedia.com/article/news/146962--lykke-li-passion-pit-frightened-rabbit-to-appear-on-new-show-from-gossip-girl-oc-creator

This summers Daytotter session is up on the site!
Click here to hear 4 songs LIVE and a free download


Earlimart contributes a Christmas diddy for the Midnight Mission Benefit album "Plastic Snow" which features songs from Earlimart , Great Northern, Let's Go Sailing and many more....

Earlimart just released the 4 song " LIVE at The Ship " in conjunction with Aquarium Drunkard and Sirius
Available NOW
http://www.aquariumdrunkard.com/
http://www.sirius.com/leftofcenter

Don't Miss Earlimart on 12.19 for KROQ's "Locals Only" at Safari Sam's in Los Angeles
http://www.kroq-data.com/localsonly/localsonly_all.asp

AND YES! That IS Earlimart you hear featured on upcoming episodes of One Tree Hill, Kyle XY, The L Word and Brotherhood

Live Performance On KCRW 's Morning Becomes Eclectic
Check it out HERE!

Check out "Song For"

Press hearts Earlimart !
Brooklyn Vegan :
"The smallest release week of the summer offers a generous amount of reissues, but the only new release I can recommend is Hymn and Her by Earlimart."

Paste :
"Already 2008 has proven to be the year of the power duo: Mates of State, She & Him, The Weepies and Matt & Kim are just a few that have dropped excellent releases over over the past six months. However, Earlimart's Ariana Murray and Aaron Espinoza should sound even more familiar, as for about 10 years they have branded their own sweetheart sound of transcendent indie rock."

Spin - "In a time when subgenres can seem as numerous as artists, it's a relief to find straightforwardly sincere, modern-rock songwriting done well."

NY Sun :
"Earlimart creates airy, soaring songs that feel as light and fleeting as a dream."

All Music Guide - "...Hymn and Her features the same sun-baked slices of indie pop that made Mentor Tormentor and Treble & Tremble ??such appetizing fare."

Billboard - "Earlimart... issues another set of dreamy, rainy-day tunes with 'Hymn and Her.'"

LA Times - 3 1/2 Stars "Releasing another full-length effort less than a year later is unusual, but the accelerated pace might account for the infusion of freshness that makes "Hymn and Her" so arresting."

LA Times - "Espinoza and Murray (who headline at Spaceland on July 18) are clearly charting a course of their own now, heading for a place of saturated emotion and sanctified spirit."

Blurt - "Full of subtle hooks and ear-catching surprises..."

Metromix - "...one of the band's most consistently enjoyable efforts to date."

New York Sun - "Earlimart creates airy, soaring songs that feel as light and fleeting as a dream."

Seattle Post-Intelligencer - "This is a tapestry of organic and melodic materials that leave a long-lasting, sweet aftertaste."

Deli Magazine LA - "Aaron Espinoza and Ariana Murray's revolving vocals evoke telepathic conversations between two distanced lovers, backed by an ethereal mix of piano and guitar-driven rock. Their songs have a signature blend of tension and release, with honest stripped down verses followed by lofty daydream choruses, just waiting to tell your summer love story."

Digg.com - "The increasingly prolific Aaron Espinoza and Ariana Murray, a.k.a. Hymn and Her, a.k.a. Earlimart, have returned just one year after the lush folk and pop of Mentor Tormentor to deliver the even more accomplished, assuredly staggering Hymn and Her.
To respond to the author of this Press Release, please click here.
Views: 1185
---
Search
---
Video Gallery
Paul Collins and The Beat - Look But Don't Touch
---
Photo Gallery
Click Here to Post!!!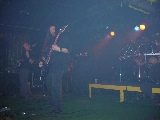 Abythos at The Back Room
---
Syndicate This Blog