Club Kingsnake - Music Press Releases
These Press Releases are submitted by bands, publicists and the staff of Club Kingsnake. PLEASE NOTE - All Press Releases are reviewed before listing and releases that are not on topic will not be listed. Submitting a release does not guarantee listing. To add a music press release click here.
LOVEDRUG'S THE SUCKER PUNCH SHOW IN STORES TODAY ON THE MILITIA GROUP
LOVEDRUG'S THE SUCKER PUNCH SHOW IN STORES TODAY ON THE MILITIA GROUP
BAND ON TOUR WITH COPELAND, LYDIA, AND LIGHTS

Lovedrug are back, and they brought their guitars and a few cross words with them.

OCTOBER 28, 2008-Lovedrug, the Cleveland, Ohio quartet once compared to the likes of Coldplay for their foray into piano-driven tunes has just made a 180-degree turn with its latest release, The Sucker Punch Show.

Now more akin to bands such as Foo Fighters and Queens of the Stone Age, Lovedrug, arena-leaning indie rockers that they are, delivers in spades on the big-budget hints inherent in much of the band's previous work. Their neo-melodic-grunge has won over critics at Spin.com ("grungy guitar brawn of bygone flannel rockers, but adds complexity with epic arrangements and moments of unsettling Thom Yorke falsetto"), Alternative Press ("There's no shortage of massive and muscular moments here"), Paste ("Dark and lovely, as addictive as the band's name suggests"), Flaunt ("Gloomily triumphant"), Blender.com ("Lovedrug combine smart lyrics with hearty rock & roll to create a record full of indiepop gems."), Entertainment Weekly ("...somewhere between 70's-style guitar-rock grandeur and pre-weird Radiohead lives this inebriated, quasi-hallucinatory tale."), and RollingStone.com (Editor's Pick).

Earlier this month the fierce-some foursome (singer/guitarist/keyboardist Michael Shepard, guitarist Jeremy Michael Gifford, bassist Thomas Bragg and drummer James Childress) hit the road with Copeland. The tour runs through November 23 with the second gig of a two-night stand at The Social in Orlando, FL.

With The Sucker Punch Show in stores today, Lovedrug is now wholly focused on the live shows to come. According to drummer James Childress, "We conceptualized, wrote and recorded this album from start to finish with the working idea that we would be able to recreate the songs live."

Guitarist Jeremy Gifford agrees, adding: "I can't wait to play these songs live - it's going to be a true rock experience - just four guys bringing the noise."

Stream songs from The Sucker Punch Show now at: www.purevolume.com/lovedrug
and www.myspace.com/lovedrug.



Catch Lovedrug on tour with Copeland:



October 27 - New York City, NY @ Bowery Ballroom

October 29 - Ann Arbor, MI @ Blind Pig

October 30 - Chicago, IL @ The Bottom Lounge

October 31 - St. Paul, MN @ Station 4

November 1 - Omaha, NB @ Slowdown

November 2 - Denver, CO @ Marquis Theatre

November 3 - Salt Lake City, UT @ Avalon Theatre

November 5 - Boise, ID @ The Venue

November 6 - Seattle, WA @ El Corazon

November 7 - Portland, OR @ Satyricon

November 8 - Orangevale, CA @ The Boardwalk

November 10 - San Francisco, CA @ Slim's

November 11 - Los Angeles, CA @ The El Rey Theatre

November 12 - Tempe, AZ @ The Clubhouse Music Venue

November 14 - San Antonio, TX @ White Rabbit

November 15 - Dallas, TX @ The Door

November 16 - Norman, OK @ Meacham Auditorium

November 18 - Nashville, TN @ Rocketown

November 19 - Columbia, SC @ New Brookland Tavern

November 20 - Atlanta, GA @ The Masquerade

November 21 - St. Petersburg, FL @ State Theatre

November 22 - Orlando, FL @ The Social

November 23 - Orlando, FL @ The Social
To respond to the author of this Press Release, please click here.
Views: 1824
---
Search
---
Video Gallery
Paul Collins and The Beat - Look But Don't Touch
---
Photo Gallery
Click Here to Post!!!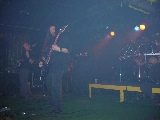 Abythos at The Back Room
---
Syndicate This Blog