Club Kingsnake - Music Press Releases
These Press Releases are submitted by bands, publicists and the staff of Club Kingsnake. PLEASE NOTE - All Press Releases are reviewed before listing and releases that are not on topic will not be listed. Submitting a release does not guarantee listing. To add a music press release click here.
BROTHER VON DOOM PREMIERES NEW VIDEO ON HEADBANGERSBLOG.COM TODAY!!!
BROTHER VON DOOM PREMIERES NEW VIDEO ON HEADBANGERSBLOG.COM TODAY!!!

Ohio metal clan BROTHER VON DOOM will be premiering their brand-new video
for "Eater of Days" on Headbangersblog.com today, October 31! The band
tapped David Brodsky (The Acacia Strain, The Black Dahlia Murder, Suicide
Silence) of MyGoodEye Productions to direct. The video was shot at Medieval
Times and features knights, swords, fireballs, and a ton of metal!

The video is available here:
http://headbangersblog.mtv.com/2008/10/31/video-premiere-brother-von-dooms-e
ater-of-days/

Check out
http://www.thegauntlet.com/article/4136/14217/Brother-Von-Doom.html for an
exclusive stream of BROTHER VON DOOM's Relentless. The entire album is
streaming now only on TheGauntlet.com.

Be sure to visit Headbangersblog.com TODAY for the online premiere of
BROTHER VON DOOM's "Eater of Days"!

www.myspace.com/brothervondoom
To respond to the author of this Press Release, please click here.
Views: 1157
---
Search
---
Video Gallery
Cattle Decapitation Interview - Part II
---
Photo Gallery
Click Here to Post!!!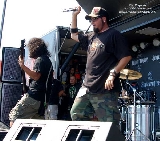 Ankla; Ozzfest 2007;August 12, 2007...
---
Syndicate This Blog