Club Kingsnake - Contact Music Press Release Author
These links are submitted by staff, volunteers, and users of Club Kingsnake. PLEASE NOTE - All links are reviewed before listing and links that contain commerical advertising, copyrighted materials, profanity, or are not on topic will not be listed. Submitting a link does not guarantee listing. To have a music news link listed click here.

Contact the author of Ebony Bones' Announces 4 SXSW Shows Debuts
---
Search
---
Video Gallery
Cattle Decapitation - Long-Pig Chef and the Hairless Goat
---
Photo Gallery
Click Here to Post!!!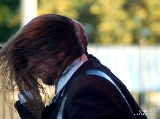 9mm Solution; Summerfest Zippo Rock...
---
Syndicate This Blog